Farming Simulator 19 released at the end of November, and since then, it's fair to say it's become a bit of a surprise hit. Just ten days later, it had sold a million copies, according to publisher Focus Home Interactive. Then back in January Farming Simulator League launched as a real esports venture with a €250k prize pool. Now, Focus has revealed that the game has sold more than two million copies worldwide – a pretty amazing feat for such a seemingly niche game.
As reported by GameDaily.biz, the publisher has released its report on earnings for the fiscal year 2018-2019, which reveals that the series' latest iteration, Farming Simulator 19, has surpassed the two million sales mark. This sales success has contributed towards a record revenue year for Focus this year – it's beaten its guidance target by more than 20 per cent.
Some of the farming sim's success could be due to some cool new features it's received. In its first patch, the tranquil agricultural sim added a much-requested feature: landscaping. The landscaping feature allows you to modify the ground itself, "controlling shape and colour to give you even more ways to build the farm of your dreams," says developer Giants Software. From moving mountains to touching up the grass around your horse paddock, no topographical blemish, large or small, need persist on your farm unless you wish it to. The feature will be accessible at all times, but will cost in-game money to use.
Landscaping enables you to lay down 16 different varieties of ground, as well as realistic paths, mud, and more. The latest patch also fixes a swathe of bugs and adds new economic difficulty modes, letting you decide how profitable trading and selling goods will be according to how you'd like to be challenged.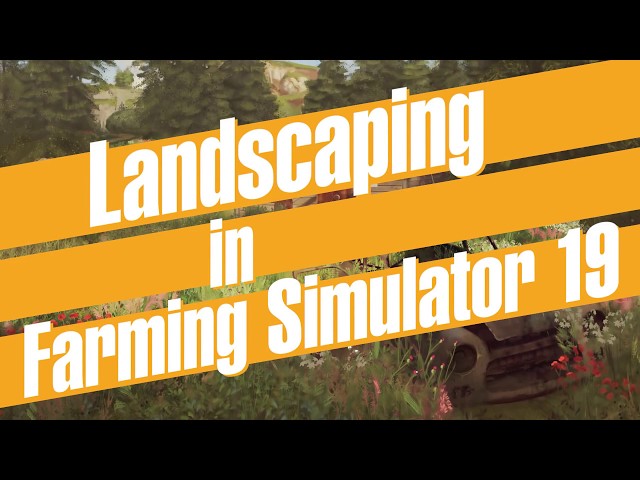 The game has also seen Twitch and YouTube communities emerge around it, helping the game grow and reach bigger audiences.
Farming Simulator 19 is on Steam here, and will set you back $34.99 (£29.99) – though it's currently on sale for $27.99 (£23.99) until July 9, so if you're tempted to hit the hay, now might be the time to jump in. The developer claims it's the biggest step forward for the series so far, featuring "hundreds of faithfully reproduced farming vehicles and tools", including equipment from the huge American corporation John Deere for the first time.
Related: How realistic is Stardew Valley? We asked a farmer
An enterprising Redditor has made a breakdown of all those vehicles, including costs, speeds, HP, tire and attachment options, and more. Check it out if you're tempted to get into the game – the top-voted reply on the associated thread is bitter with regret at having blundered into a hasty purchase of the 724. Forewarned is forearmed, as they say.