Filament is deliberately a little bit of a mystery. Space-age fantasy, a cosy puzzle game, a narrative-driven adventure – any one of these descriptions fits a part of what Filament is, and the result is tantamount to genius.
So let's start at the beginning. What is Filament? Well, as you may have surmised by now, it's a puzzle game set in space. The protagonist has stumbled into a situation in which they have to save a woman locked in the cockpit of her ship. She can't get out, but she can talk to you through the intercom. She walks you through the puzzles you have to solve so as to move through the ship and let her out, working out what happened to her missing crew along the way.
We've had the opportunity to talk to the development team behind Filament about how they created such a curious conundrum of a game, and it's a fascinating story. So join us as we talk to technical artist Josiah Ward, character artist and UI designer Ben Webster, and art director and environment artist Aaron Coker about the world of Filament.
Isolation of the characters is key for the story to work, and so space makes perfect sense. But if you look at the artwork for the game, it's distinctly not the cold, sterile view of space so common among games that take it as a setting. Instead, it's warm and lived-in, like your cool aunt's living room. Webster tells us that, "arriving at the space setting was actually quite an interesting process. We went through a range of ideas and the biggest thing that came from them was cosy. We liked cosy. We also love a lot of '80s design and the Japanese Metabolism architecture movement. As we started making these environments the backdrop of space sort of just happened."
The Japanese Metabolism movement is a modular take on architecture, not unlike the structures that make up space stations and rockets. It's all compartmental, and when your game relies on a character going from one space to the next, compartmental architecture makes sense.
The team came to the art style that you see in Filament today after they won Epic Game Jam 2017, and decided to continue working on their winning idea. The Epic Game Jam, like this Making it in Unreal series, celebrates creations made in Unreal Engine 4. After we offer a short, very belated congratulations, Webster talks to us about using Unreal in a game jam situation.
"I think that Unreal Engine is definitely a good game engine for a game jam, with the caveat that you've at least had a poke around the engine beforehand," he tells us. "Particularly when working fast, Unreal's Blueprints are amazing at really quickly prototyping gameplay mechanics. If anyone is thinking about trying out a game jam all I can say is do it! You will never learn quite as much in so little time."
Blueprints are a well-loved, and much talked about element of the Unreal Engine 4 in the Making it in Unreal series. One memorable example was Song of Horror, 99.9% of which was apparently made using Blueprints. The Blueprints Visual Scripting system uses a node-based interface to make game development more accessible to those without much coding experience, and faster overall. It's easy to see the value of such a system in a game jam, where games are made to tight deadlines, often by teams with little professional experience of game development.
Filament's big idea when it comes to puzzle design is its cable. You connect pillars using this cable, and it acts a lot like a rope being pulled taut around objects.
Without any hesitation, the team tells us that it presented the most difficult technical challenges of the project. Lead artist Ward elaborates: "Getting the cable to be performant over a range of hardware was difficult, it needs to be frame-rate independent too so that it behaves consistently. It's only ever trying to solve the last segment so the actual calculations are rather simple, I still needed to do a quick refresher on my A-level angle maths though."
Don't worry, you're not required to do an A-level in maths to play Filament (although its puzzles may stump you once in a while). Webster tells us that the profiling tool within Unreal Engine 4 helped with the cable's performance.
"If anyone is toying around with Unreal at all seriously they should get friendly with the profilers," he says. "The CPU profiler tells you how long everything takes on the CPU down to individual functions. A morning with the profiler improved the performance of the cable tenfold by pointing out something incredibly dumb we were doing (something-something, iterating through a giant array of collision volumes, something)." It all sounds very complicated.
Unreal also helped the team compartmentalise their work, helping to avoid overlap, repetition, and redundancy. "We all needed to be working on the spaceship at once," Webster continues. "Unreal made it trivial for us to separate it into sublevels so we could work on it simultaneously without treading on each other's toes."
What really draws us to Filament, though, are the puzzles and the story. Just from looking at the trailer, it seems the two are interwoven. But if someone gets stuck on a puzzle, does that mean the story is also frozen in place?
"Striking the balance between story and puzzles is something that we go back and forth on all the time," Webster explains. "Filament is primarily a puzzle game, but we love a good story and have spent a long time crafting the world, and we want people to get a sense of that. One way we've tried to help the balance is that not all puzzles are required to finish the story currently it sits around 60%." This prevents the story from stagnating.
"In addition to that, there is a huge amount of optional story content the player can dig into at their will," he continues. "With this, we hope that every player can play Filament however they want too, without the game getting in their way."
Here at PCGamesN we love games like Portal, in which it can feel like you're solving every puzzle in your own way, with maybe even a couple possible routes to get where you need to go. When we look at Filament, it seems like there could be either one or dozens of solutions "This varies on a puzzle-to-puzzle basis," Webster says. "Some have only one solution, some have a couple. I think what's important about the puzzle design is that, generally, each has a specific scenario which the whole puzzle revolves around. And as long as that is robust enough, all variations of a solution still require you to have tackled this as intended."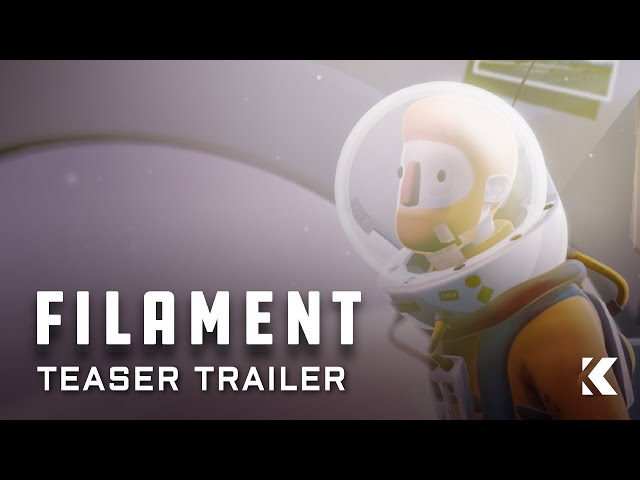 But most importantly, when it comes to puzzles, we want to know if the dev team ever got stuck on a puzzle themselves. Webster answers, "stuck on a puzzle? Me? Never." Coker – who was also the lead puzzle designer on the game – gives a look that indicates Webster's answer might not be the full truth.
Filament is out Q1 this year. Unreal Engine 4 development is now free.
In this sponsored series, we're looking at how game developers are taking advantage of Unreal Engine 4 to create a new generation of PC games. With thanks to Epic Games and Beard Envy.