Yoshi-P and friends have laid out all the FFXIV 6.4 patch details and exactly what we can expect to be doing in the next expansion for the critically acclaimed MMORPG in Final Fantasy 14 Producer Live Letter 76. Game director Naoki Yoshida and community producer Toshio Murouchi take the helm as always, guiding viewers through the next FFXIV update in their typically fun, laid-back fashion.
The seventy-sixth FFXIV live letter starts with all the chaotic energy of classic morning TV shows that will be familiar to fans of classic British telly such as The Big Breakfast. The pair are initially joined by exiting Square Enix CEO Yosuke Matsuda – there to express his excitement about getting to play more golf – and incoming CEO Takashi Kiryu, who arrives clutching an FFXIV-branded electric guitar that he says he spotted at FanFest last year and couldn't pass up on buying for himself.
With those antics out of the way, it's almost time to talk about FFXIV patch 6.4. But first – FFXIV patch 6.38 releases on April 4. This small patch removes the weekly restriction on Pandaemonium Abyssos (Savage), sees the start of Crystalline Conflict season six and a number of small tweaks to PvP actions, and will see a 24-hour maintenance period for North American servers as the team replaces some backend data centre hardware.
Firstly, we get the title for FFXIV patch 6.4 – it's called 'The Dark Throne.' Set to release in "late May," Yoshida notes that the team is entering the second half of the post-Endwalker patch cycle, meaning "the next big thing is almost around the corner already." Along with the MSQ, we'll also be continuing Tataru's Grand Endeavour and taking part in even more Somehow Further Hildibrand Adventures.
We get a glimpse at the new dungeon, The Aetherfont, which appears to feature some polar bears lounging around on ice floes. Yoshida remarks, "I don't know why, but when I hear MMORPG I think of polar bears – maybe it's because of Ultima Online." We also see an imposing armoured figure for the new trial, The Voidcast Dais, which will of course also come with an extreme version.
The new Unreal Trial is Containment Bay Z1T9 – that's Zurvan, for those of you who struggle to pull the various alphanumeric labels apart. Yoshida notes that perhaps not as many players will have cleared the original extreme, as it was one of the latest trials released for Heavensward, but that there will be some special rewards for challenging the Unreal.
The next raid is Pandaemonium Anabaseios. If that's a bit of a mouthful, you'll have a full week after patch 6.4 releases to get used to saying it before the Savage variant arrives, with the team carrying on its new, slightly delayed format to give players more chance to enjoy the base content. We don't get too many details, although we do see a rather striking figure that Yoshida says would fit in perfectly to Japanese action show Kamen Rider.
The second Variant and Criterion dungeon is titled Mount Rokkon, and will arrive with patch 6.45. You won't have to have completed the previous such dungeon to unlock it, and it will once again feature three tiers of difficulty.
Duty support has now been introduced for multiple key Stormblood dungeons – The Sirensong Sea, Bardam's Mettle, Doma Castle, Castrum Abania, and Ala Mhigo – meaning that just the 4.x dungeons from the post-Stormblood patches are left before the NPC-based duty support system will offer a way to play through the entire game's dungeons without needing to call in other real players, if you prefer.
In long-awaited news, patch 6.45 brings a Blue Mage update! The level cap on FFXIV's unique limited job will be raised to 80, with new spells and gear added, alongside new enemies in the Masked Carnivale. There will, of course be plenty of PvE and PvP job adjustments, although more details on these should be expected in the next Live Letter. There's also some tweaks to Frontline, with new UI to display the match time and score.
Returning from a brief break with some musical interludes, Yoshida laments the news of E3's cancellation, saying it was an ambition to be there when he first began his game development career. We then get news of a new ocean fishing route heading towards Kugane. Yoshida jokes, "That's a long journey – in [Stormblood] you had to complete a dungeon on the way here, and now we're just going to fish?"
Big FFXIV Island Sanctuary updates were previously promised for 6.4, and here they are. There's new sanctuary ranks and visions, a new gathering area in the wilds, and construction plots added to the hideaway. You'll be able to earn new item rewards, find new materials, crops, animals, and handicrafts, and craft new items and structures.
There's also now support for outdoor furnishings – these can be placed near structures in your hideaway, with up to 90 slots able to be unlocked as you continue to progress and build out your Island Sanctuary. Unfortunately, there's currently no support for special furnishings such as striking dummies and gardens. Yoshida does note, however, that there are plans to increased the number of items players can place in their house in FFXIV 7.0.
There are a few other miscellaneous updates to close out. The newest Allegan tomestones are, rather hilariously, named 'Allegan tomestones of comedy.' There will also be an account-wide increase of your maximum number of gear sets to 100, which will be made available to all characters straight away, regardless of quest progression.
Some small UI tweaks include job icons being displayed in the chat log for members of your party and alliance, and on player nameplates. There's also a new togglable option to include the transaction fee for items sold through the in-game FFXIV market board in their total price.
For fashion fans, you'll be pleased to hear that glasses and wing fashion accessories can now be displayed while you're engaged in battle in the overworld. An update to glamours will also allow items stored in a wider variety of locations to be accessed when casting glamours in an inn room – so you'll have full access to the likes of your Armoire and Glamour Dresser, for example. There are new fairy glamours for Scholars, allowing you to choose between Eos, Selene, and Carbuncle as you please.
That's pretty much everything from today's showcase – Yoshida notes that players can expect much more details from the next Live Letter as is usual. This will include plenty of in-game footage and doubtless lots of holding up printouts of the various rewards you can expect to earn in the next patch, along with an exact release date. We'll be sure to bring you all those details but, in the meantime, we've wrapped up everything from today below.
FFXIV 6.4 patch notes – Live Letter 76
FFXIV patch 6.4 is titled 'The Dark Throne' and releases in late May. All below updates are scheduled to release with patch 6.4, unless otherwise stated.
Quests, Trials, and Duties
Main Scenario Quest continues.
Tataru's Grand Endeavour continues.
Somehow Further Hildibrand Adventures (patch 6.45).
New dungeon, The Aetherfont.
New trials, The Voidcast Dais and The Voidcast Dais (extreme).
New unreal trial, Containment Bay Z1T9.
New raid tier, Pandaemonium: Anabaseios.
The savage raid tier, Pandaemonium: Anabaseios (savage), will be released one week after 6.4 release.
New Variant and Criterion dungeon, Mount Rokkon (patch 6.45).
Duty Support for Stormblood dungeons – The Sirensong Sea, Bardam's Mettle, Doma Castle, Castrum Abania, and Ala Mhigo.
Crafting and Gathering
Further Manderville Weapons (patch 6.45).
Splendorous Tools (patch 6.45).
Ocean Fishing update – new route towards Kugane.
Job adjustments, balance, and PvP
Blue Mage update – level cap raised to 80.
New Blue Mage spells and exclusive gear.
New enemies in the Masked Carnivale.
Job adjustments (PvE/PvP).
PvP series four begins.
Season seven of Crystalline Conflict.
New Frontline UI element displaying match time and score.
The Fields of Glory (Shatter) rules adjusted.
The Borderland Ruins (Secure) temporarily unavailable.
Island Sanctuary
New sanctuary ranks and visions.
New gathering area in the wilds.
New construction plots in the hideaway.
New item rewards.
New materials, craftable items, crops, animals, and isleworks handicrafts.
New structures.
Support for outdoor furnishings added to the hideaway. Furnishings can be placed near structures. A maximum of 90 slots can be unlocked via Island Sanctuary progress. Special furnishings like striking dummies and gardens will not be supported.
Miscellanous
Allagan tomestones of comedy added.
Maximum number of gear sets increased to 100 (available to all characters immediately, regardless of quest progression).
Job icons will now be displayed in the chat log and on player nameplates. Chat log icons will only display within parties and alliances.
The transaction fee for items sold on the market board can now be incorporated into their total price, displayed under "total."
Glasses and wing fashion accessories will now display when engaged in battle in the overworld.
Items stored in a variety of locations can now be selected when casting glamorous in an inn room.
Fairy glamorous are now available to Scholars. Select from Eos, Selene, or Carbuncle!
You can watch the full presentation below, although note that it's in Japanese with English language slides. Thanks as always to Miuna and Iluna Minori on the FFXIV Discord (invite opens in a new window) for their incredible work providing live translations during the show.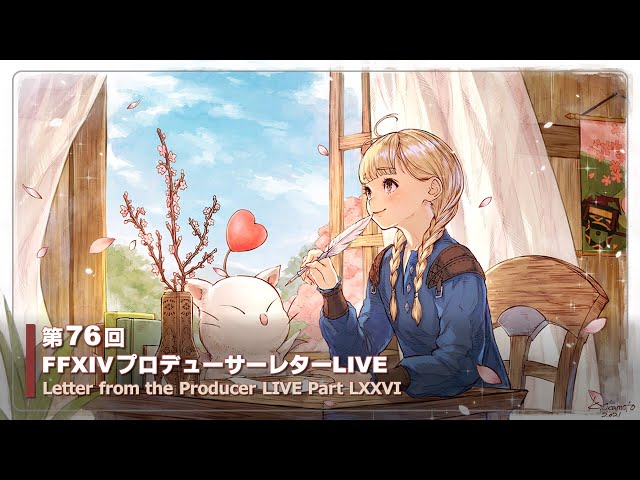 If you're still working through FFXIV patch 6.35, make sure to check in with our FFXIV Island Sanctuary animals checklist, and read about the FFXIV bards throwing a Live Aid concert to raise funds for earthquake relief efforts.