Fortnite Season 9 downtime has already begun, and even though many players are yet to have boarded the Battle Bus in the wake of the new update, we already know what we're expecting to see. The Fortnite Season 9 patch notes are available now, showing off what's to come from the start of the game's next season.
The biggest change is, sadly, not that much of a change at all. While Tilted Towers and Retail Row were wiped out by last week's volcanic eruption, later today they'll return, shiny and new. A cyberpunk aesthetic takes hold of the new Neo Tilted and Mega Mall, which can be found in the exact same spots as their now totally-dated predecessors.
The new map areas will now also feature two new gameplay mechanics. Airvents are similar to bouncepads, catapulting players a short distance into the air and making them immune to fall damage. Even more dramatic, however, are Slipstreams – giant Dyson-style fans that form wind tunnels allowing you to be carried passively around the map, speeding up or slowing down as you adjust your position.
Of course, this wouldn't be a new season without the Fortnite Season 9 Battle Pass, and thankfully Epic hasn't disappointed. As ever, you'll have new skins, wraps, and emotes to unlock, as well as new mechanised pets. There's also new Fortbytes – 100 computer chips hidden across the map that'll unlock rewards and help uncover a season-wide secret. 18 Fortbytes are available from today, and at least one new byte will be unlocked each day.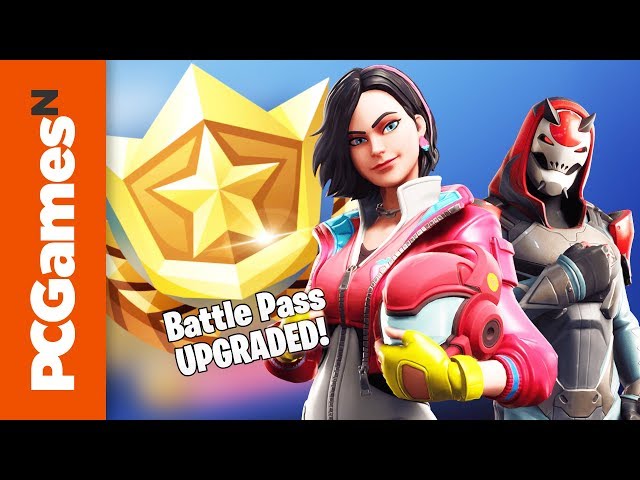 Elsewhere, the patch notes make some pretty substantial changes to Fortnite's arsenal. A new semi-automatic combat shotgun has arrived, and a few other weapons have had their availability tweaked. Grenades are back, but a whole host of weapons have headed to the vault – Clingers, two assault rifles, the scoped revolver, and even the Pump Shotgun have all been removed from the game.
Related: Here's when Fortnite Season 9 goes live
You can check out the patch notes in full for yourself here. As well as all the changes I've already mentioned, there's a look at upcoming LTMs, as well as changes to creative. Fortnite Season 9 should be live right now, so you can drop in and check out Neo Tilted for yourself straight away.