Looking for a list of all Gargoyle locations in Fortnite? We're here to show you where to dance at different Gargoyles in Fortnite. You might be wondering why a new set of Fortnite challenges has descended on Epic Games' battle royale a day earlier than the usual dump of weekly challenges. This week we're getting a free set of Fortnitemares challenges to accompany a huge new Halloween-themed update, including new skins, new weapons, and map changes – so don't worry about the Fortnite week 5 challenges as they should still arrive as usual.
You'll want to complete the Fortnitemares challenges as soon as possible as new sets of challenges will be dropping regularly and you don't want to miss out on the event reward: the Dark Engine Glider.
Fret not as we're here to show you where to dance at different Gargoyles in Fortnite. The update is now available, and we've found seven Gargoyles already – three more the five you need to complete the challenge.
All Fortnite Gargoyle locations
You'll find a Gargoyle hiding within the depths of the umbrella mine. This non-named location can be found west of Lazy Links; just check your map for the umbrella-shaped area. You'll find a Gargoyle in the deepest areas of the mine, hidden behind a crate. You may need to smash a few walls to find it.
Unsurprisingly, a Gargoyle can be found in the Haunted Castle by Haunted Hills. In the centre of the Gothic building you'll find a recessed hall area, and it's here that you'll discover a Gargoyle located against a pillar.
Another Gargoyle can be found in the courtyard of Tomato Temple; just check out the square area in the very centre of the location.
Head to the open area between Risky Reels and Wailing Woods to find a fourth Gargoyle. Here you'll find a brown patch of dirt surrounded by three trees, which is the stage for a little tea party. A Gargoyle is in attendance.
A Gargoyle can be found close to Titled Towers. If you look to the south east, past the L-shaped buildings and across the stream, you'll see a mountain with a Gargoyle on it. If you've gone as far as the corrupted zone, you've gone too far!
At the tip of the hill in Viking Village is a building, inside of which hides another Gargoyle.
North of Flush Factory is a mountain where you can find yet another Gargoyle.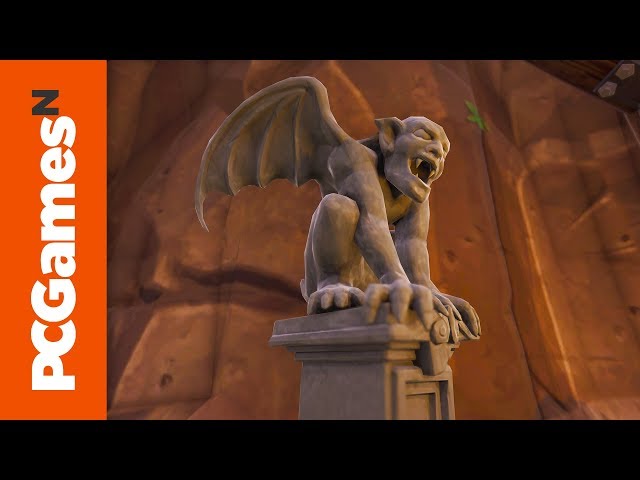 You only need to dance in front of five gargoyles to complete the challenge, so the five we've pinpointed in the video above should grab you the reward. There may be other gargoyles on the map, so keep your eye out while battling other players and husks.