Where do you go in Fortnite to dance in front of a bat statue, in a way above ground pool, and on a seat for giants? Ah, the infamous dance-in-front-of-something-obscure challenge. A nice to know they're there for casual challenge completers, but for an advanced Fortnite challenge goer, you'll complete an extra challenge by visiting them all in a single game.
That's right route planners, dance in front of a bat statue, in a way above ground pool, and on a seat for giants in a single match, and you've completed another challenge in itself. But, where are all those locations, and is it possible to get to all locations in a single match? Of course it is! But, not without being prepared and planning first.
Want to know how to complete this week's dance in front challenge? We've covered how to find all these locations in the Fortnite season 10, week 6 boogie challenges, which includes the bat statue in Haunted Hills, the floating pool near Fatal Fields and the seat for giants somewhere east of Polar Peak. When you arrive at all these locations, you'll want to face the object and select your preferred dance style.
Fortnite bat statue location
The first location can be found in Haunted Hills, northwest of the map. The bat statue sits at the back of Haunted House, on the raised edge to the right of the angel statue, next to the house that usually hosts a chest.
Fortnite in a way above ground pool location
True to its name, the pool in this week's Fortnite challenge can be found floating, currently located in the sky to the left of Fatal Fields, it will continue to move slowly around the map for the rest of the season – so keep an eye out for it. The stranded motel situated on a hovering mound of dirt has taken with it all the best parts from its successor Lazy Lagoon.
Fortnite seat for giants location
The last location, on a seat for giants, can be found below Shifty Shafts and to the right of Polar Peak. The easiest way to get here is to land on the giant wooden chair to the right of the small cluster of houses and the tacos diner.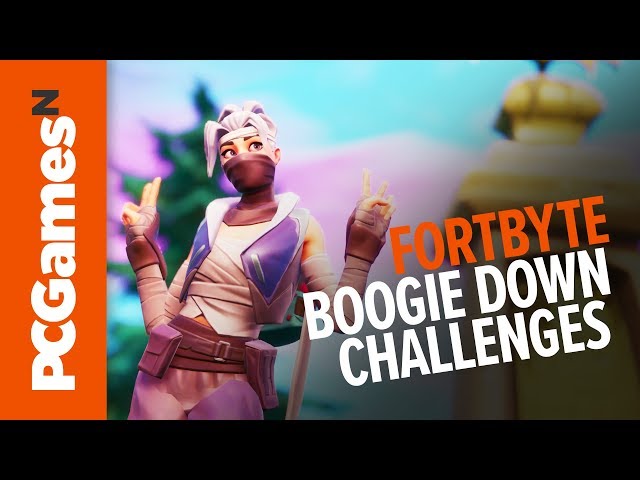 There you have it, all the locations for the Fortnite Season 10 Week 6 in front of challenges.
If you're done scaling giant chairs and boogying to bats, you can check out our other Fortnite week 6 challenges, raise the disco ball at an icy airplane hanger, or visit the oversized piano.