Anime and battle royale games unite once again, as the Fortnite Dragon Ball part 2 crossover has been officially unveiled by Epic Games. Released ahead of Fortnite Chapter 4 Season 2, the likes of Piccolo, Gohan, and some returning elements from the original Fortnite x Dragon Ball Super collaboration are dropping into the game, so here's everything you can expect.
That's right, Dragon Ball's Piccolo and Gohan are in Fortnite, after the first anime crossover from last year introduced the likes of Goku and Vegeta. You can get the two – Piccolo and Gohan – in their Dragon Ball Super: Super Hero forms from the Fortnite shop. The Kamehameha weapon and Nimbus Cloud mobility item have both been unvauled and are set to drop onto the Fortnite map in the form of capsules. The Dragon Ball Adventure Island is also back from the last Fortnite Dragon Ball event as well.
The Adventure Island has Goku's House, Kami's Palace, the Room of Spirit & Time, and Beerus' Planet, alongside a Tenkaichi Budokai PvP arena. You can find the island on the discover screen or with the code 5642-8525-5429.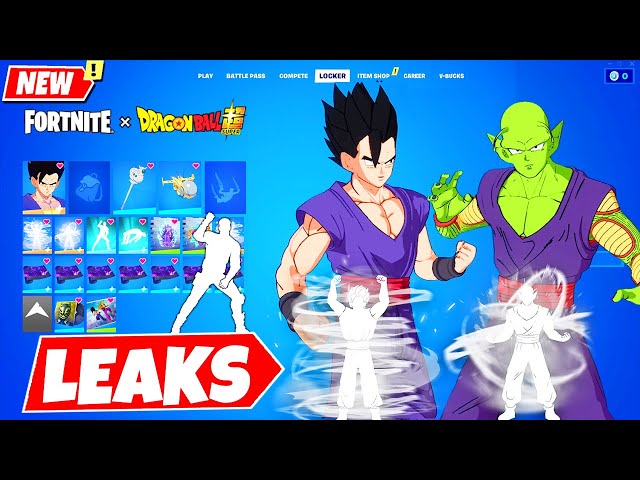 It also isn't just Gohan and Piccolo Fortnite skins either, as each has accessories and back bling in bundles as well. You can find all of this in the item shop, with Epic Games saying old Fortnite Dragon Ball skins and cosmetics will be coming back to the item shop at a later date.
Fortnite Dragon Ball cosmetics
Below are all of the Fortnite Dragon Ball cosmetics that are currently available:
Piccolo outfit
Piccolo's Cape and Turban Back Bling – Cape and turban that Piccolo can put on and take off with his demon power. (Included with the Piccolo Outfit. Can only be used with this Outfit.)
Piccolo's Demon Symbol Back Bling – The mark that Piccolo used to wear. (Included with the Piccolo Outfit.)
Piccolo's Handheld House Pickaxe – Piccolo's unique shell-like house.
Red Ribbon Army Aircraft Glide
Gohan outfit
Gohan's Cape Back Bling – A gift from Piccolo to inspire him to return to training. (Included with the Son Gohan Outfit. Can only be used with this Outfit.)
Gohan's Beast Axe Pickaxe – Go beyond ultimate!
Capsule No. 576 Glider
You can find out all about the Dragon Ball Fortnite crossover on the Epic Games website.
In the meantime, you can check out our new Fortnite weapons breakdown that details all the guns in Chapter 4 Season 1, or you can look at our list of the best multiplayer games available on PC right now.