Where is Fortbyte 37 in Fortnite? Panic stations! Everybody to their posts! A collectable has been spotted in one of the game's many subterranean hideouts, and we need you there. Beneath the sleep suburb that is Fortnite's Pleasant Park lies a secret hideaway, but it's a toughie to get at.
This is the latest entry to the Fortnite Fortbytes locations challenges but, as we say, it's a tricky one to find. What you're looking for is the Fortnite disaster bunker basement, but it involves a fair amount of digging with your harvesting tool. Even then Fortnite Fortbyte 37 is hidden devilishly within the bunker, but we're here with a step-by-step guide to show you how to get to it.
If you're new to the whole Fortbytes malarkey – which, since the Fortnite season 10 release date is almost here, presumably, would be quite the surprise – we all get a new puzzle piece to track down in various ways using myriad special items, and then we get an image that slowly reveals itself as a reward. Anyway, you know this by now: here's how to get Fortnite Fortbyte 37 in a disaster bunker basement.
Fortnite Forbyte 37: disaster bunker basement Pleasant Park location
So, here's where to start: dive down to the house that stands on its on at Pleasant Park's northern side in the centre. Head through the front door and down the stairs or, for speed, use your pickaxe to hack through the floor. Head forward and to the right and smash through the big wooden wardrobe.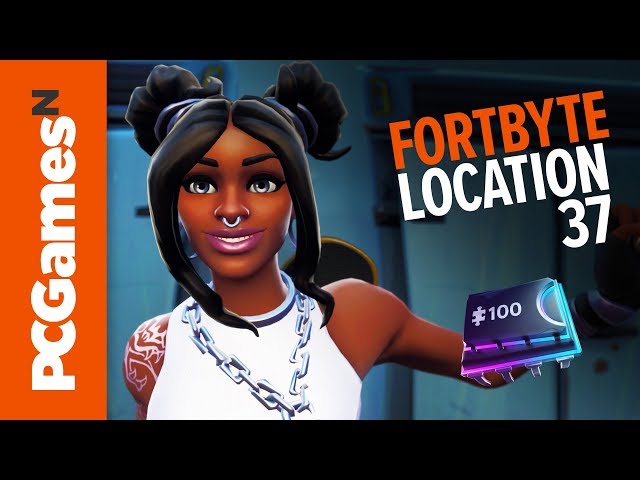 Behind that you should see a wall that's a little bit worse for wear in the top left corner; destroy that, too. That then reveals a hallway with a metal blue door at the end and to the right which you need to head through. Once you're in there, bear left until you see a small room – it should look like the destination shown in the video above. That's where to find your desired computer chip.
More Fortbytes, please:
Fortnite Fortbyte 40
Fortnite Fortbyte 83
Fortnite Fortbyte 4
And there you go, that's how to get Fortbyte 37 in Fortnite. It's certainly a hard one to get your hands on, so well done to you for picking it up in the midst of the chaos of Battle Royale. Take a break by smashing up some Fortnite grills – which is your latest of the Fortnite 14 Days of Summer challenges – and then you're all done with those. Now you can treat yourself to a burger or, actually, maybe you should've eaten one before you broke the cooking equipment.