Where is Fortnite Fortbyte 11? Another day has dawned, and that means a new computerised puzzle piece has arrived in Epic's byte-filled battle royale game. A new one turns up each and every day in season 9, and today you're going to want to find a Fortnite circling jungle parrot.
This is the latest development in the Fortnite Fortbytes locations challenges. Fortbyte 11 in Fortnite is the next one of these to go live, and we're going to tell you precisely where you need to go to pick it up. This is a tricky one to get, really, as the Fortnite circling jungle parrot is easy to miss and hardly an obvious point of interest.
But, on the plus side, you don't need to have a certain cosmetic like a special Fortnite skin equipped to get the eleventh puzzle piece. Like a few of the more recent pieces, this may have involved a little grinding, but you can grab this at any stage of the Battle Pass. So, without further ado, here's where to find a Fortnite circling jungle parrot to get Fortbyte 11.
Fortnite Fortbyte 11: circling jungle parrot location
This next hidden collectable sees you heading over to the northeast corner of the map, near the Pressure Plant named area. The parrot your looking for is flying in circles over the top of one of a few large trees directly east of the plant – look out for its bright red and blue colouring. You can see an example of how it should look and the Fortbyte itself in the video guide below.
It's possible for the bird to be in multiple different destinations, but they are pretty close to each other as far as we've seen. You can see what it looks like in the screenshot gallery below. We recommend initiating your parachute early so you can have a good scan of the treetops and where other players are heading.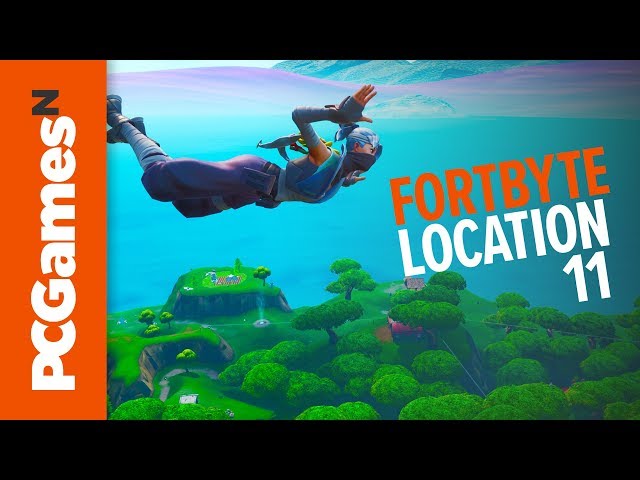 In most cases it's just to the east of Pressure Plant. We know about three possible spawn points for the bird so far so, if it doesn't turn up for you, try quitting out and diving back in to help you find what you're looking for. We've seen the bird near the eastern rim of the volcano and down at the end of a zip line from the plant. Then there's another path if you head south down the path from the former.
Once you've spotted the bird, wherever it appears for you in the game, head past it and down to the base of the tree its hovering over. Fortnite Fortbyte 11 is there on the ground. Once you approach it, you know what to do.
Fortbytes catch up:
Fortnite Fortbyte 43
Fortnite Fortbyte 98
Fortnite Fortbyte 20
And there you are, where you can find the Fortnite circling jungle parrot so you can get Fortbyte 11. It's a bit of a tricky one to get without a guide, so if you need us to give you a hand, we're always happy to help. If you're looking for a breaking form puzzle scavenging, have a go at the brand new Fortnite 14 Days of Summer challenges which include a trip around all the many Fortnite beach parties that are kicking off all over the map. From there, you're all caught up with a lovely new Fortbyte nestled in your collection.