Where is Fortnite Fortbyte 14? The only trick to finding today's Fortbyte chip is knowing where to find the RV park, which could be tricky if you're not familiar with Fortnite's battle royale map. It's not marked on the map, but don't worry: we know where to go. Out of all the Fortbyte locations, this one is one of the most straightforward pickups.
For Fortbyte 14, you don't need to have any special gear unlocked through the Battle Pass, as has been the case with several recent Fortbytes. Fortbyte 7 required players to use the Cuddle Up emoticon in an umbrella-shaped rock formation, for example.
But you won't need any special emotes, dances, contrails, costumes, or sprays for Fortbyte 14. You just need to know where to look for an RV park, and we've got the details on that right here. The RV park is located between Lonely Lodge, the Paradise Palms racetrack, and the Mega Mall, right at the bottom edge of map square I5. Look for it on the eastern side of the island. Plunk a map marker there and head over when the Battle Bus gets close.
Fortbyte 14 isn't easily visible from the air, but don't fret, just head into the RV park, and keep your eye out for fellow players – camping Fortbyte locations to rack up easy kills is a common tactic these days.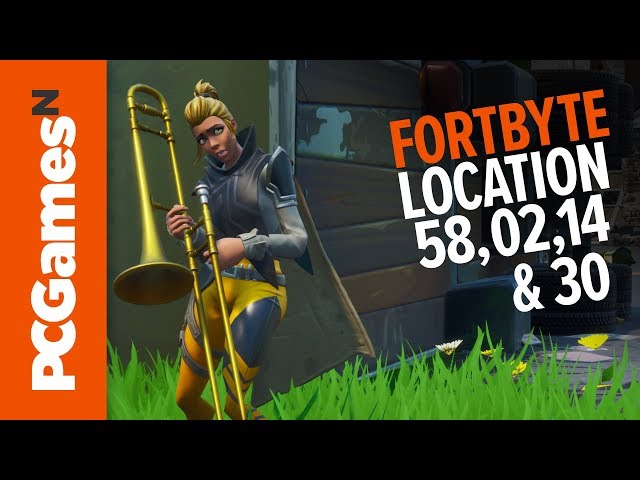 Once you're in the RV park, you'll want to head to the northern side. Look for a green camper parked next to some trees. If you get stuck, check us out as we pick it up in the video above.
The Fortbyte is tucked between the camper and a tree, hovering just over the ground. Run in and grab that thing, and you'll have uncovered another piece of the Season 9 Fortbyte puzzle.
More on Fortnite:
Fortnite Fortbyte 49 location
Fortnite Downtown Drop challenges
The best Fortnite skins
And that's it! Fortnite Fortbyte 14, found in an RV park. There are still plenty of Fortbytes to go, so check back here if you find yourself stumped on any of them. We'll be providing guides for each of them as they're unlocked.