Where is Fortbyte 16 in Fortnite? The related question you're probably asking is, where is the Fortnite desert house with too many chairs? We've seen some challenging tasks in this strand of Fortnite objectives before, but this one certainly takes the cake.
It's certainly a mystery, and could definitely play host the easiest game of musical chairs possible. Perhaps the original owner just couldn't sit still, or just really likes sofas? Either way, please let them know that adopting a sedentary position for too long is inadvisable for long periods of time. Might we recommend some hip twists and strolls along the coast of Paradise Palms?
Yes, the Fortnite desert house with too many chairs can, obviously, be found in the game's arid southeastern area. You'll know it's the right place because the resident just cannot find a place to store all his settees: the spot poking out the window looks especially uncomfortable. Regardless, Fortnite Fortbyte 16 can be found inside this curious-ly furnished abode, and we're going to show you exactly where.
Fortnite Fortbyte 16: found in a desert house with too many chairs
There are a few settlements in the desert biome, but the one we're looking for is southwest of Paradise Palms and, if you're travelling on the main road through the biome from Lucky Landing, it is the second township on the right. In the town it's on the south side. You can see what we mean in the video below.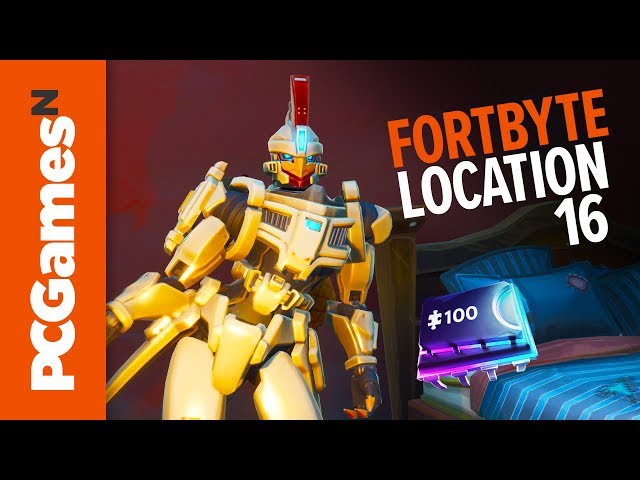 As you're flying in the Fortnite desert house with too many chairs has a couple more of the chairs on the roof with a telescope. Fortnite Fortbyte 16 can be found on the ground floor in the smaller room tucked away in the corner. You'll need to use your pickaxe to break through the necessary bits of furniture. Hopefully they weren't any of the owner's favourites – although he could probably do with losing a few.
More Fortbyte solutions:
Fortnite Fortbyte 6 location
Fortnite Fortbyte 72 location
Fortnite Fortbyte 22 location
So there you go, that's where to find Fortnite Fortbyte 16 in a desert house with too many chairs. Above you can see links showing you where to find even more, as you've got an awful lot more to go in the Fortnite Fortbytes locations challenges after that. Once you're caught up, check out the Fortnite Downtown Drop challenges for more gear. Already you can do a Fortnite dance or emote between two food trucks, and find Jonesy hidden behind a fence.