Where is Fortbyte 18 in Fortnite? Yet another of the 100 diminutive blighters has found its way into Epic's battle royale game, and we're here with this guide to show you exactly where to go. The two named locations the clue references might be obvious, but where do you need to drop between Fortnite's Mega Mall and Dusty Divot?
This, as you'll probably know so well it's burned indelibly on your grey matter, is the latest development in the Fortnite Fortbytes locations challenges. Each and very day will see you diving down into the map to grind your way towards 100 collectable puzzle pieces. Today, you're heading for Fortnite Fortbyte 18.
And, as ever, us kind folk at PCGN are on hand to show you exactly where it is. In fairness, when it comes to Fortnite's Dusty Divot and Mega Mall, you don't really need to worry about the former – Fortnite Fortbyte 18 is much closer to the revamped shopping district. But that probably isn't specific enough, so we're going to show you exactly how to get Fortbyte 18 between Mega Mall and Dusty Divot.
Fortnite Fortbyte 18: between Mega Mall and Dusty Divot location
So, disregarding Dusty, aim your departure from the Battle Bus towards Mega Mall, bearing towards its western side. There, you should see some steps leading up to one of the Slipstreams, head to the base of them and get ready for the next step.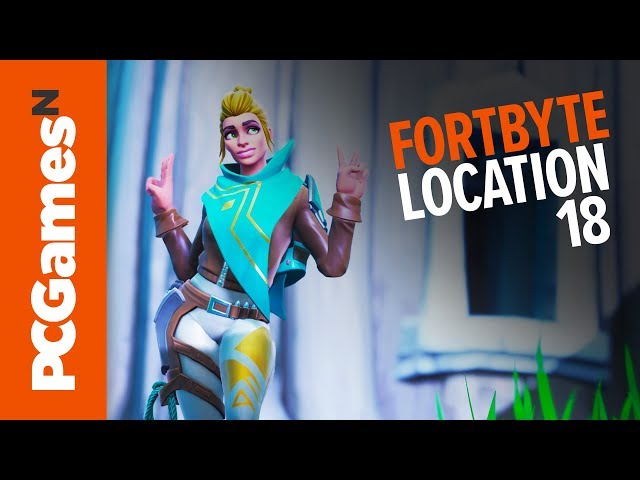 Nearby you should see a small hut – remember, we're directly west of Mega Mall, here. The interior of this small shed is where you find Fortnite Fortbyte 18. Head into the shed and turn right, and the collectable is in the corner past the wooden crate.
Even more Fortbytes:
Fortnite Fortbyte 52
Fortnite Fortbyte 75
Fortnite Fortbyte 63
And there you go, that's how to find Fortnite Fortbyte 18 between Mega Mall and Dusty Divot. We have a few more byte-sized guides to help you own your way to a full collection linked above, but you've also have your Fortnite 14 Days of Summer challenges with which to get busy, too. For instance, things can get rather explosive when you've launched various Fortnite fireworks into the sky. So you've got plenty to do, but make sure to stick to PCGN whenever you next need another Fortbyte.