Where is Fortbyte 22 in Fortnite? This Fortbyte doesn't have explicit instructions indicating where to look for it, but fortunately, we've got you covered. The underpass in question is located in Neo Tilted, the futuristic mini-city that's replaced Tilted Towers. Neo Tilted is a pretty hot drop zone, so be prepared to duke it out when you drop in. And you'll need to have the Rox Spray equipped to collect the Fortbyte.
If you're just joining in, the Fortbytes locations challenges involve collecting 99 puzzle pieces by completing various challenges or locating them on the map as they unlock. Eventually they'll reveal an image that, hopefully, will let us know more about what's happening in the world of Fortnite this season. Just in case you've come here looking for Fortnite Fortbyte 72, this isn't it, but luckily we have a guide for that, too.
There are two steps involved in collecting Fortbyte 22. The first is to have the Rox Spray, which you unlock at level 6 of the Battle Pass. Once you've got that, get ready to drop down near Neo Tilted. There are any number of ways to reach the underpass, but I've found the easiest and safest approach is from the road heading in from the southwest side of town.
Fortnite Fortbyte 22 location: Where to use the Rox Spray in an underpass
The place you want to use the Rox Spray is down on the lowest level in Neo Tilted, and if you head into town using that southwest approach, you'll find yourself heading down a hill and around a bend. You'll see a tractor-trailer truck parked on the right side of the street with its back doors open. Immediately to its left, you'll see a corner underneath an underpass.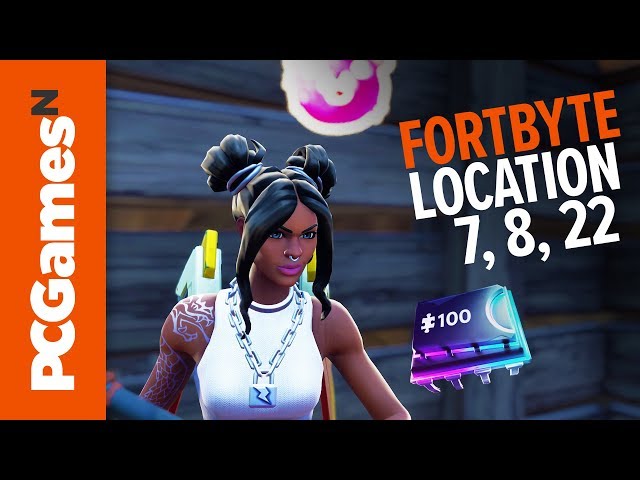 Head into that corner, and you'll see a ghostly version of the Fortbyte floating over the pavement. Now, use that Rox Spray in the area (and you'll know you're in the right area when you see a bunch of other players' sprays), and the Fortbyte will materialise, allowing you to collect it.
More Fortbytes:
Fortnite Fortbyte 5
Fortnite Fortbyte 34
Fortnite Fortbyte 37
And that's that! The video above will show you how to collect numbers 7 and 8 if you still need those ones. Then, once you're done, make sure you get grinding to get the tier and XP-based bytes. Now all that's left to do is wait until we see more Fortbyte unlocks. Happy hunting.