Looking for Fortnite Forbyte 24, but not sure where in Fatal Fields it's hiding? Chances are you're looking for a bunch of these right now as Fortnite season 9 has just launched, and there are 100 of these puzzling computer chips in total. You'll have to grind XP to obtain some and finish in top 10 many times over to get others. Thankfully, a good few of them are hidden in plain sight and make for quick grabs.
We've even picked up a few ourselves, from the Fortnite frozen island Fortbyte to Fortbyte 13, which was hinted at through loading screen 2. This one, however, will require you to keep your wits about you as you'll be diving straight into Fatal Fields. It's a battlefield in its own right, but with other people on the hunt for this Fortbyte, it will be more popular than usual.
Anyway, now that we've laid the groundwork join us as we point out exactly where to drop and search to grab an easy Fortnite Fortbyte to add to your collection.
FORTNITE FORTBYTE 24 LOCATION
When you load into your game take a look at your map and look South between the desert and the snow. There, nestled in green territory, will be Fatal Fields – where you'll be setting your course to land. Here's the precise spot you'll want to mark on your map:
As you get closer, you'll want to make sure you land close to, or on top of, the house. If you're looking at the map, the home is on the left side of Fatal Fields. Don't mix it up with the barns on the right, though, or you may be leaving empty-handed, indeed.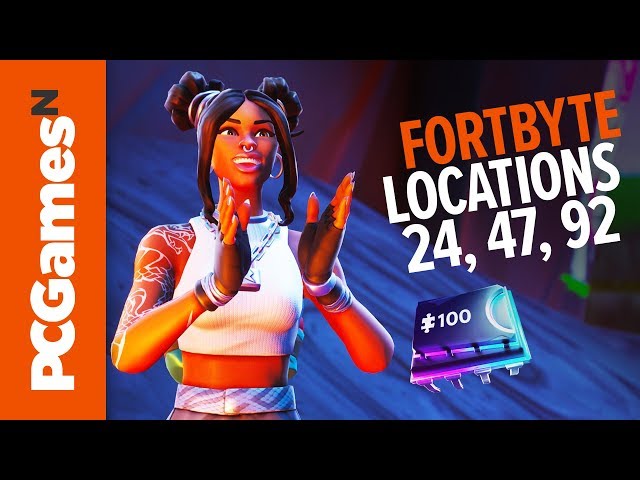 Once you're in the house, head on up the stairs and search the rooms and you'll eventually come across it. Once you do, press the E key on your keyboard, and you'll have Fortnite Fortbyte 24 in your collection. Check out the video above for a precise location.
More season 9 goodies:
Fortnite Fortbytes locations
All Fortnite Sky Platforms
Fortnite John Wick LTM
And there you go, where to find Fortnite Fortbyte 24. It's an excellent Fortbyte to be aware of as it's reasonably swift to get, and the others can require a fair bit of legwork.