Where is Fortnite Fortbyte 88? Where's this snowy bunker the clue speaks of? Who is Bunker Jonesy? All these questions are associated with today's Fortnite Fortbyte puzzle piece, number 26 out of 100, which again sends us to the far edges of Fortnite's Battle Royale map.
If you're just tuning in, the Fortbytes are computer chips that, when collected, become pieces of an image that will, presumably, tell us something about Fortnite's ongoing story and what's happening this season, and a new one appears on the island every day. We've got a list of the Fortnite Fortbytes locations challenges that we're updating as new ones become available. And, by the way, if you're looking for Fortnite Fortbyte 68, you've taken a wrong turn.
Fortnite Fortbyte 26 requires you to head to the snowy region on the southwest corner of the map, and you'll need some special locker gear in order to pick it up. It's a little tricky to find on your own, but don't worry – we've got you covered.
Fortnite Fortbyte 88: Accessible with the Bunker Jonesy outfit near a snowy bunker
The first thing you'll need to do to access this Fortbyte is to unlock the Bunker Jonesy epic outfit. Battle Pass owners will receive nervous, the bearded fellow at tier 23, so this might take a while if you're just getting going on your challenges this season. Once you've done that, equip the skin and hop into a match – and prepare to trudge through some snow.
You're headed for one of two islands off the southwest coast of the island, directly south of Polar Peak. You'll want to drop onto it from the Battle Bus, and bear for the easternmost of the two snow-covered islands. It's marked on the map above.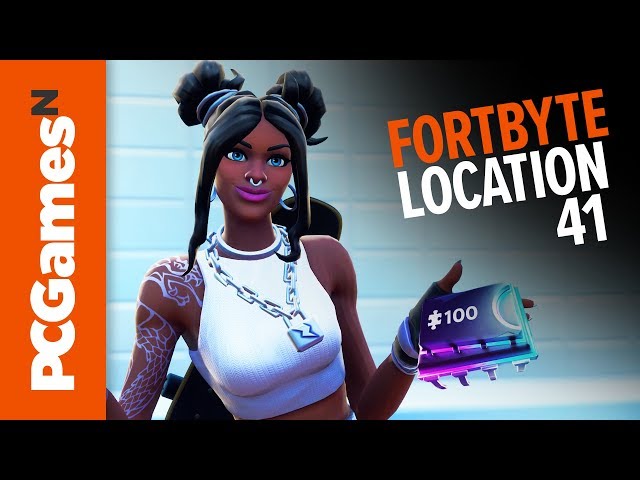 Once you've alighted on the island, make for the little shack. Inside, floating above a mattress in the corner, you'll see Fortnite Fortbyte 26. As long as you're sporting the Bunker Jonesy outfit, you'll be able to pick it up and add it to your collection. Voila!
Need more Fortbytes?
Fortnite Fortbyte 88
Fortnite Fortbyte 47
Fortnite Fortbyte 31
And that's it, you've managed to access Fortnite Fortbyte 26 with the Bunker Jonesy outfit near a snowy bunker! The only question now is, how do you get back to the mainland before the storm eye shrinks, or someone unceremoniously shotguns you? You'll have to work that bit out on your own, but for now, enjoy yet another piece of Fortnite's Season 9 puzzle.