How do you get Fortnite Fortbyte 28? The short answer is by solving the pattern match puzzle outside of a desert junkyard. That, however, still leaves plenty of questions to be answered, such as where to find the puzzle itself and how to solve it once you get there.
In case you're not aware, Fortnite Fortbytes have been dropping daily since the launch of season 9. Some require that you have certain emotes, skins, or sprays unlocked. Fortnite Fortbyte 40, to name one, requires the Demi skin. Luckily, however, Fortnite Fortbyte 28 only requires some know-how, and not any specific items. So you won't need to grind up your battle pass to get this one. On top of that, we also know that it's in one of Fortnite's desert areas, so we can narrow down our search based on that factoid alone.
Anyway, enough chitter chatter, throughout this guide we'll go through the steps it takes to unlock Fortnite Fortbyte 28. So, if you're struggling with this puzzle, or want to know where it is, then read on and prepare to jump into the Fortnite queue. Here's how to get Fortnite Fortbyte 28.
As you stand in the game's opening area, you'll find yourself in a decent moment to draw your map out and pinpoint where you need to go. You'll immediately notice that the desert area of the map is to your right. If you look south of Paradise Palms, you'll find the desert junkyard, which is where we want to go.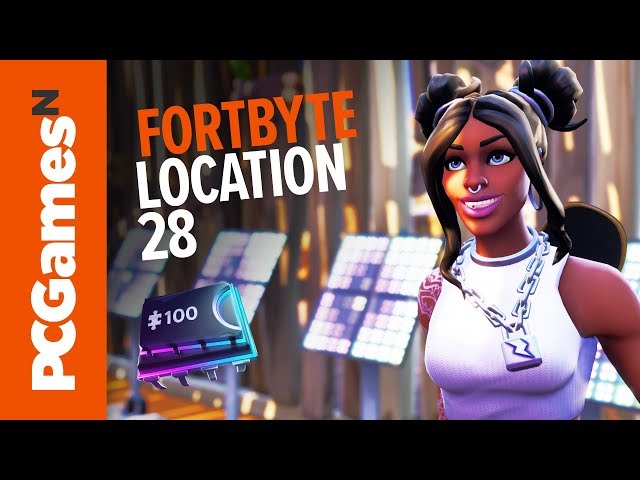 As you float on down, head to the northeast corner of the desert junkyard and you'll find the pattern match puzzle on the side of a barn. To start it, pull the lever. After that, shoot the colours in order and you'll pick up Fortnite Fortbyte 28. Sadly, the order is random, so you're on your own for that part, but you should be just fine.
Related: all the Fortnite Fortbyte locations in one place
And there you have it, Fortnite Fortbyte 28. While there's a puzzle to be solved, it's not too difficult if you know where to find it. If you get stuck on any other day, though, feel free to check back here as we round up Fortnite Fortbytes every day.