Where is Fortbyte 29 in Fortnite? We're here yet again to give you another dose of helpful byte-sized goodness to make sure you're keeping your collection up to date. This time we need to find the tree near the Fortnite Crackshot cabin for your latest collectable piece.
As ever, this is your latest guide in the Fortnite Fortbytes locations challenges strand. Each and every day a new Fortbyte turns up in the game and, when you pick one up, you're one step closer to revealing the full Bunker Jonesy image, full of hidden clues as to the game's wider story. Fortnite Fortbyte 29 is the latest one.
If you find the Fortnite Crackshot Cabin tree where the computer chip is, you're one step closer to completing each stage of your latest premium Fortnite skin. And, while we're on the subject, make sure you've found the numerous Fortnite Singularity styles so you can get the most out of it. Anyway, let's get back on track: here's where to find Fortnite Fortbyte 29 underneath a Crackshot cabin tree.
Fortnite Fortbyte 29: Crackshot's cabin tree location
Crackshot's cabin in Fortnite is located in the game's frosty ice biome, in that cold area's northwestern corner. It's hidden away on its own and surrounded by ice-encrusted trees. Head inside in the warm to find Fortnite Fortbyte 29.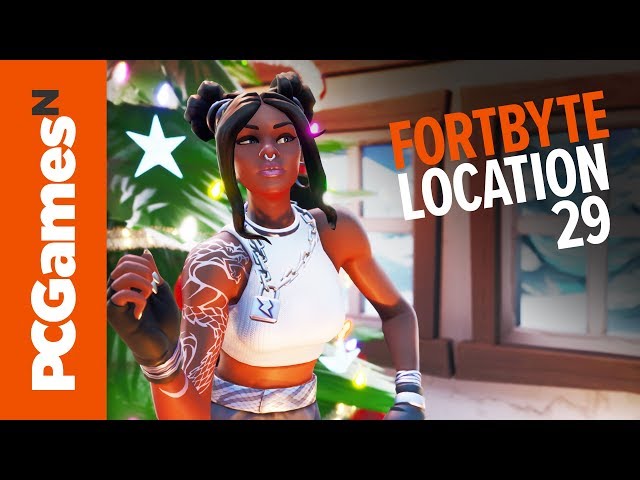 The video above should give you an idea of what the homely abode looks like. If you head in the main door on its northern side, bear right until you find the Christmas tree in the corner. At its base on the right is where your collectable can be picked up.
Some more (Fort)byte-sized guides:
Fortnite Fortbyte 27
Fortnite Fortbyte 33
Fortnite Fortbyte 94
And there you go, that's how to get Fortnite Fortbyte 29. You're almost there when it comes to stage 3 of the Singularity skin so you can show off your hard work to all your friends and recently-dispatched foes. All that's left is to wait patiently for the Fortnite season 10 release date, rack up some more Victory Royales, and enjoy the summer sun of Battle Royale.