Where is Fortnite Fortbyte 3? We know that we have to use the Skull Trooper Emoji at the western most point, so we're already a good bit of the way there. That said, dropping into the west sector of the map only gets us so far, so there's some exploring to do to find the coveted micro puzzle piece.
First things first, though, you'll need to Skull Trooper emoji to be able to go after Fortnite Fortbyte 3. To get it, you'll need to have tier 58 unlocked on your Fortnite Season 9 Battle Pass. If you already have it, you're good to go. If not, you'll need to do some grinding we're afraid. Grinding up the ol' Battle Pass is a good habit to get into, as lots of these Fortbytes require a cosmetic, skin, or emoji. Fortnite Fortbyte 12, for example, requires us to use the Nana Nana spray on a molten tunnel. If you have Fortnite V-Bucks to spare you can buy tiers, but free is always best.
Anyway, enough chitter-chatter, if you have the Skull Trooper unlocked then start up the queue, here's where to find Fortnite Fortbyte 3.
While you're waiting for the match to start, pull out your map as this is an excellent time to set a waypoint. You won't be missing much anyway. Look to the westernmost point of your map and look for Snobby Shores – we're heading just west of there.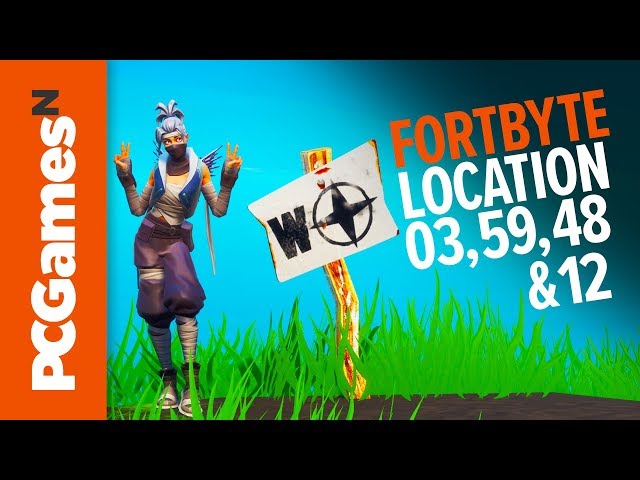 As you float on down you'll want to head west past Snooby Shores, keep your eyes peeled for a dirt path. Once on it, keep following it until you reach a sign with a compass and W on it. Once you're there use the Skull Trooper emoji and you'll snag Fortnite Fortbyte 3 for your efforts.
Found: all the Fortnite Fortbyte locations just for you
And there you go, Fortnite Fortbyte 3 is now in your collection. As long as you have the Skull Trooper Emoji this one is a doddle. If you find yourself stuck on any other day, though, then feel free to check back here as we do these challenges daily, so we'll be able to give you a point in the right direction.