Where is Fortbyte 31 in Fortnite? And, while we're getting our questions in, where is the Fortnite meteor crater overlook location? The next Fortbyte has arrived in Epic's puzzle-filled battle royale game, and we're going to help you track it down.
If you've only just found out that these types of tasks even exist in the game, the Fortnite Fortbytes locations challenges give you 99 different objectives and, once you've completed each one, a new part of a mysterious image will appear. Then, in the end, you'll get a lovely new premium Fortnite skin for your trouble.
So, let's get to where you can find Fortnite Fortbyte 31. Often we're given the named area in the clue for each challenge, but this one is a bit tougher. However, just in case you don't know the map like the back of your hand, you're going to be departing the Battle Bus in the vicinity of Dusty Divot. But, of course, we're going to be a little bit more specific than that in this guide, so here's where to find the meteor crater overlook location in Fortnite.
Fortnite Fortbyte 31: found at a meteor crater overlook location
So we imagine that, as you're reading this, you're just sending your regards to the friendly neighbourhood Battle Bus driver and diving on down to the forested crash site of Dusty Divot. But, before you get yourself lost – and killed, most likely – in the undergrowth, you need to make your way over to the warehouse building overlooking it, instead.
For an exact view of the Fortnite meteor crater overlook location, the map and screenshot above give you just that. On the side facing away from the named area there is a diner. On the opposite side of that – the one with the view over Dusty Divot – there's a gantry looking over at the area's verdant beauty. On this gantry is where you can find Fortnite Fortbyte 31.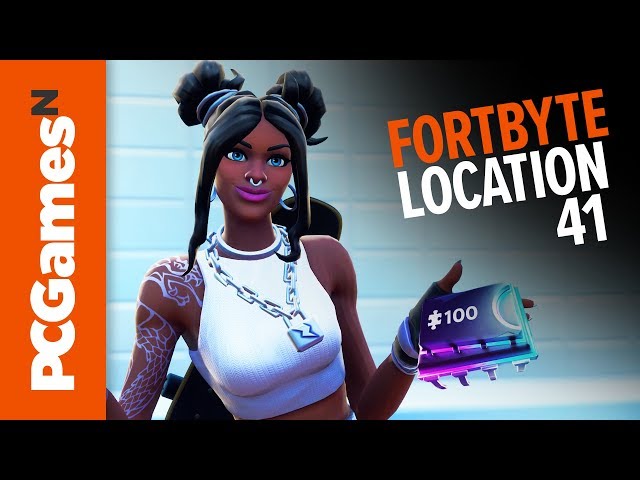 And there you go, that's where you can find Fortnite Fortbyte 31, if that's your kind of thing. If it definitely is, you should get a head start on the other 98, so check out the video helping you out with number 41. In the meantime, when you get to overlooking Dusty Divot, take a moment to enjoy the view. That's before, you, y'know, get killed.