Where is Fortnite Fortbyte 41? And, at that, where do we use the Tomatohead emote inside Durr Burger? Another day, another piece of the Epic Games puzzle has landed in our favourite battle royale game. Each day since the current season started a new hidden computerised byte has gone live with an associated clue and this time we need to use this charming anthropomorphic fruit at our favourite burger joint.
If you've been living under an especially large rock for the duration of this season, the Fortnite Fortbytes locations challenges see you collecting each of these puzzle pieces to reveal a premium skin and more about the game's wider narrative. But, first, we need to find Fortnite Fortbyte 41.
Once you're all done there, take a gander at the Fortnite Downtown Drop challenges. This liner Michael Jordan-themed race is quite the refreshing distraction from a normal game of Battle Royale. But, let's get back to business: here's where to find Fortnite Fortbyte 41 inside Durr Burger restaurant.
Fortnite Fortbyte 41 location: use Tomatohead in Durr Burger restaurant
So, first things, first, the Fortnite Forbyte 41 Durr Burger chain of the restaurant is located in Neo Tilted in the centre of the refreshed named area. We'll give you a closer look in the video below.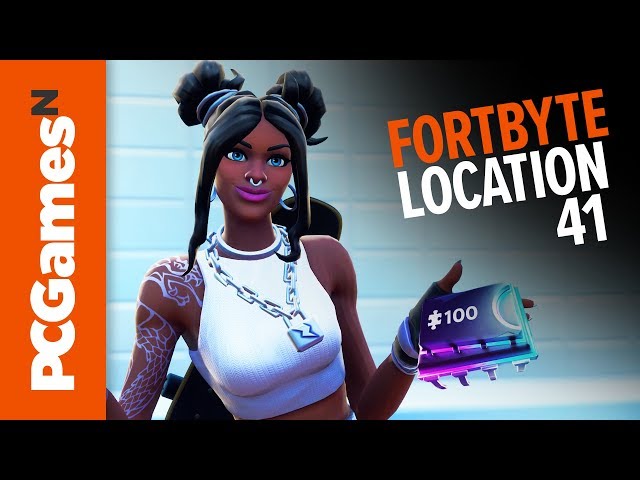 As you can see, you need to use the Fortnite Tomatohead emote – that's unlocked at tier 3 of the Battle Pass, but we're assuming you're there already – in the kitchen area of the Fortnite Durr Burger restaurant. It's tucked away in the corner near the deep fat fryers. Just make sure you pay for those on your way out.
More Fortbyte guides:
Fortnite Fortbyte 16 location
Fortnite Fortbyte 72 location
Fortnite Fortbyte 6 location
And there you are, that's how to get Fortnite Fortbyte 41 in the Durr Burger restaurant using the Tomatohead emote. Remember, however, there are plenty more of those pesky puzzle pieces to get, so check out our further guides in the links above.