Where is Fortnite Fortbyte 43 on the map? We imagine you're asking this question since this is the latest puzzle piece to go live in the game. We'll go a step further and also assume that you want a hand with it, too? Of course that's what we going to do, since we're nice like that.
If you're all caught up on the Fortnite Fortbytes locations challenges, this'll all be Old Hat to you by now. And, no, that's not an unlockable cosmetic, just in case you're asking. We hope you're on course to collecting all of them so you can get your premium rewards and see the full Jonesy image, and we going to help you go a step further by helping you find Fortbyte 43 in Fortnite.
Like plenty of the other Fortbyte tasks we've been set this season 9, you'll obviously need to be wearing the Fortnite Nana Cape Back Bling cosmetic in order to get it. So, once you have that, head over to the refreshed area of Neo Tilted so you can get Fortnite Fortbyte 43 by wearing Nana Cape inside Banana Stand.
Fortnite Fortbyte 43: wear the Nana Cape Back Bling inside a Banana Stand
Assuming you have the Back Bling you need, head over to Neo Tilted. You might remember this spot as Tilted Towers but, following the spew-happy volcano from season 8, it's been transformed. One of the big changes is the missing clock tower, but who uses that to check the time anyway – sorry Big Ben.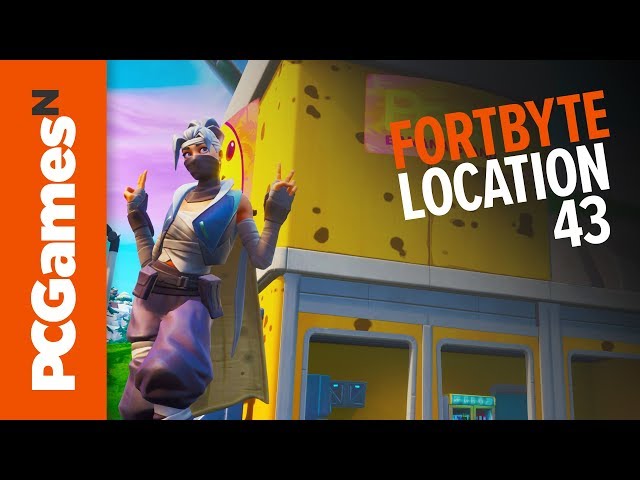 You can't miss the building you need to head towards in the southwest of this named area: it's bright yellow and dedicated to the game's current favourite fruit. If you're still stuck, you can see it on the video guide above. On the ground floor of the Fortnite Banana Stand is where you'll find Fortbyte 43, provided your wearing the thematically-linked cosmetic you need, of course.
Don't miss these Fortbytes:
Fortnite Fortbyte 98
Fortnite Fortbyte 20
Fortnite Fortbyte 3
And there you have it, that's how to get Fortnite Fortbyte 43 by wearing the Nana Cape Back Bling inside a Banana Stand. If you're still searching for some of the more recent puzzle pieces, check out the links to numbers 98, 20, and 3 above. For now, have a Peely special and use that potassium to boost yourself all the way to your next Victory Royale.