Where is Fortbyte 52 in Fortnite? Another day, another puzzle piece has nestled its way somewhere onto Epic Games' massive king of the hill island. And that means you have yet another computerised collectable to pick up, and we're going to show you where it is.
However, before you get your Fortnite skin and other cosmetics ready for your next descent from the Battle Bus, know that you need to have a certain one equipped before you can get Fortnite Fortbyte 52: the Fortnite 'Bot' Spray. This item is itself unlocked at Battle Pass tier 85, so you can't have been lazy with your weekly challenges if you want to have a chance of getting this latest byte.
So, provided you've done that, you can tackle this next offering in this, the Fortnite Fortbytes locations challenges. We're nearing the end now as we head into the Fortnite season 10 release date, but we've still got a few more to go until we can finally see the full image. Anyway, here's how to get Fortnite Fortbyte 52 in a Robot Factory location.
Fortnite Fortbyte 52: Robot Factory with Bot Spray location
Point your dive towards the northeast corner of the map for this latest collectable drop. The Fortnite Robot Factory is in the Pressure Plant named area, where a massive android appears to be being built. You really can't miss it.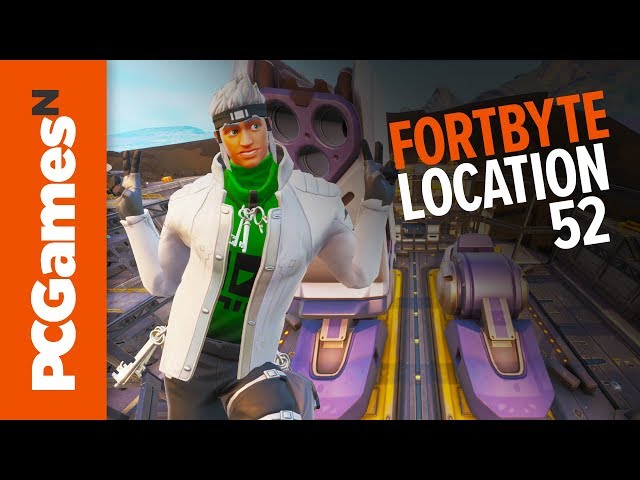 Once you're there, the video above gives you an idea of where you need to go once you get there. If you're facing the main entrance from the south, head in and bear right. In the southeast corner of the Plant is where Fortbyte 52 can be found. Just spray the Fortnite Bot Spray on the metallic wall nearby so it can be unlocked and picked up.
More Fortbytes!
Fortnite Fortbyte 75
Fortnite Fortbyte 63
Fortnite Fortbyte 97
And there you are, that's how to get Fortbyte 52 in Fortnite. There are plenty more for to get – with guides for each of the recent ones linked above – but you've also got the Fortnite 14 Days of Summer challenges to crack on with, too. Recently we've needed to bounce off Fortnite giant beach umbrellas, but there's even more to do besides to keep you busy over the summer break.