Where is Fortbyte 55 in Fortnite? The story of Fortnite season 9 is hotting up as Epic Games have us tracking down a whole host of hidden computer chips. New bytes are appearing in the game all the time, and we're here to help you every step of the way. This time we're going to show you where to find Fortnite Fortbyte 55.
This latest piece of the puzzle would normally having you traipsing through the scary village of Fortnite's Haunted Hills, inching your way past ghosts, spectres, and plenty of other players looking to kill you and put all of the puzzle pieces together themselves. But instead, we're going to show you exactly where to go so you can put all your free time towards getting even more Victory Royales.
Scarier still – for non-playing players, anyway – to discover the secret spot of the Fortbyte in Haunted Hills, you'll need to own the Battle Pass for season 9, first. However, if you want to piece together the wider narrative behind the scenes of this latest season, you'll need to stump up the necessary Fortnite V-Bucks. So, without further ado, here's where to find Fortnite Fortbyte 55 in Haunted Hills.
Fortnite Fortbyte 55 location
You need to travel to the north-east corner of Haunted Hills in order to find this piece of the puzzle. Happily, you don't need to be wearing a specific skin or have a particular emote equipped to reap the reward of this challenge.
As you can see in the map above, all you need to do is head to the small building north of the main church. Fortnite Fortbyte 55 should appear in the corner of the room.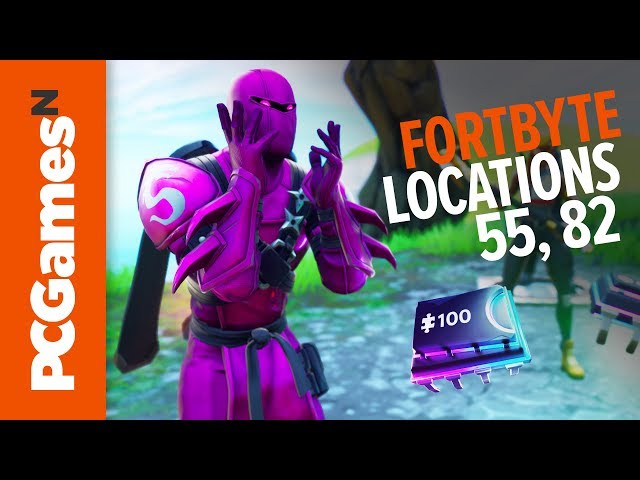 However, you've still got plenty of work to do when it comes to finding the rest of the Fortnite Fortbyte puzzle pieces – so take a look at the video above to find 55 as well as 82. Some require you to travel to certain spots with a certain cosmetic in hand, so this was a relatively easy one, albeit one that was a bit spine-chilling.