Where is Fortbyte 58 in Fortnite? E3 2019 has been and gone, but Fortbytes carry on as ever. It doesn't matter how much news comes pumping out of Los Angeles as the biggest videogames show on Earth, we're back on the hunt for Fortnite Fortbyte 58.
If you need a refreshers on how the Fortnite Fortbytes locations challenges work, you get a new clue each day – which you can find in the in-game challenges tab – and then you dive into the relevant part of the game's map to find the next clue. This time you need to use the Fortnite Sad Trombone emote at the north end of Snobby Shores for Fortbyte 58.
You get this emote at level 46 of the Battle Pass, not for the free version, sadly. So, if you haven't been keeping up with your weekly challenges, you might well need to get on with a bit more grinding before you can get the cosmetic necessary to unlock Fortnite Fortbyte 58. If you've got it, then let's head down to the Fortnite north end of Snobby Shores location to find it.
Fortnite Fortbyte 58: where to use Sad Trombone emote north end of Snobby Shores
As the clue says, the location of number 58 is on the north side of Snobby Shores, but saying it's in the northeast corner of the named area would be a more specific way of describing it. When you're flying over this part of the map, look out for the upturned lorry on its side.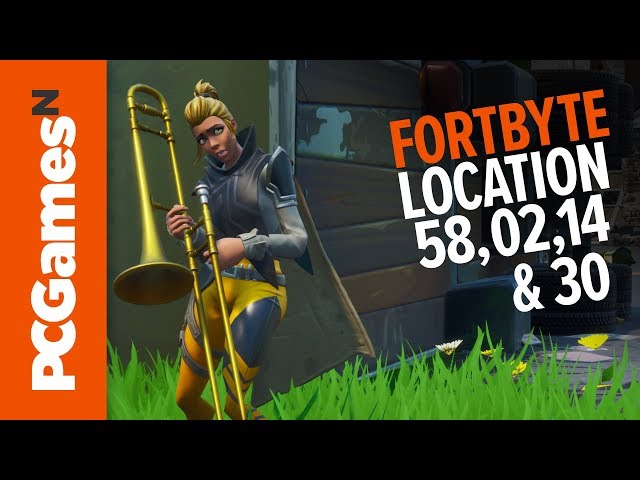 It's in the lot on the northern side of the settlement, and it's in the road next to the lorry. If you can't see the lorry, it also has a bath where the top of the actual vehicle should be. You can get a better idea of where it is in the video above.
More Fortbytes to chew over:
Fortnite Fortbyte 2
Fortnite Fortbyte 30
Fortnite Fortbyte 14
And there you go, that's how to get Fortnite Fortbyte 58 with the Sad Trombone emote in the north end of Snobby Shores. If you need catching up with some of the puzzle pieces you may have missed over E3, see a selection of them linked above. For now, we'll see you next time for the next chapter in this emerging battle royale treasure hunt.