Where is Fortbyte 61 in Fortnite? And, now that we have your attention, where is the Fortnite frozen waterfall on which we need to use the Sunbird Spray cosmetic? These are the sentiments you'll probably be echoing now that the 61st puzzle piece has gone live in the game, and we're going to show you where to find it.
First things first, you're going to need to have reached at least tier 26 in to access this latest development in the Fortnite Fortbytes locations challenges. That's the point at which you can unlock the Sunbird Spray in Fortnite, and you're going to need that to spray on the Fortnite frozen waterfall to be able to claim Fortbyte 61.
If you have no idea what we're jabbering on about, these missions are separate to your normal weekly challenges and, once you collect each one, you get yourself one step in 99 closer to revealing more about Jonesy's secretive exploits between season eight and nine, and get a premium Fortnite skin. So, without further flim-flamming, here's how to get Fortnite Fortbyte 61 at a frozen waterfall.
Fortnite Fortbyte 61: using Sunbird Spray on a frozen waterfall
So, as you might've surmised from the state of the waterfall you're looking for, we're heading over to the ice biome in order to collect Fortnite Fortbyte 61. The frozen waterfall itself is to the north of the chilly spot, just southeast of Snobby Shores and immediately south of the Viking Ship.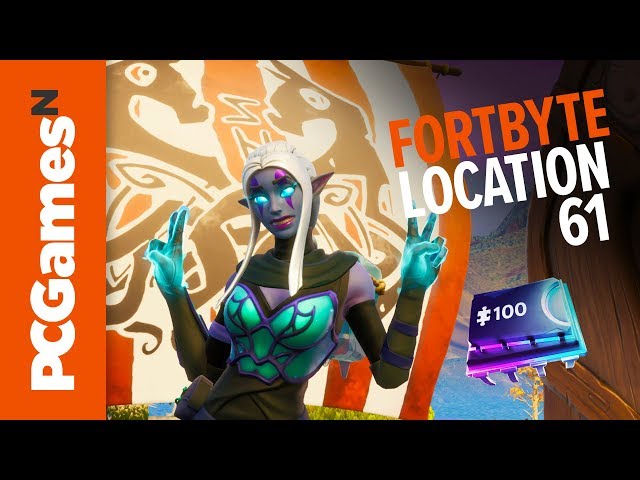 If you're unsure where that is exactly, the video above should give you a better idea of what we mean. Once you get to Viking Ship, go down the first drop heading south. If you've gone down the next part of the waterfall itself, you've gone too far. The 61st Fortbyte is after the first drop and before the second. Use your Sunbird Spray in the area, and the next piece of the puzzle is all yours.
Fortbyte Fortnites:
Fortnite Fortbyte 69
Fortnite Fortbyte 76
Fortnite Fortbyte 68
And there you have it, that's where to find Fortnite Fortbyte 61 on a frozen waterfall. Don't forget, though, that you also have some weekly challenges to polish off. At the very time this byte went live, you also had the chance to complete a lap of a Fortnite desert, snowy, grasslands race track and visit different Fortnite Wind Turbines. In the meantime, be careful on the icy surfaces; with a long way to go before you hit the ground, this spot of the map is a health and safety nightmare.