Where is Fortnite Fortbyte 62? Presumably you're asking this question because you've just seen this latest collectable puzzle piece become available in the relevant in-game challenges tab and, as ever, we never tire of telling you where they all are, so here's a guide where we're doing just that.
As you'll probably know by now, every day you can take another step in completing the Fortnite Fortbytes locations challenges. The most recent one at time of writing is Fortnite Fortbyte 62, and you'll get it with a certain Fortnite skin. Then, when you're done at the end of the season, you'll find out what Jonesy was doing in his bunker all that time.
As we've just mentioned, the wrinkle here is that you'll need the Fortnite Stratus outfit. This sci-themed cosmetic is unlocked at level 71 of the Battle Pass so, if you've only been casually playing the game, you might need to do a bit of grinding to get this objective ticked off. So, provided you're there already, here's how to get Fortnite Fortbyte 62 in an abandoned mansion with the Stratus outfit.
Fortnite Fortbyte 62: abandoned mansion with Stratus outfit location
If you've never been to the Fortnite abandoned mansion before, it's on the far east of the map on the coast. It's also just north of the desert race track. Then, once you can see the large ruined abode, you should be aiming to land near the spot shown in the video below.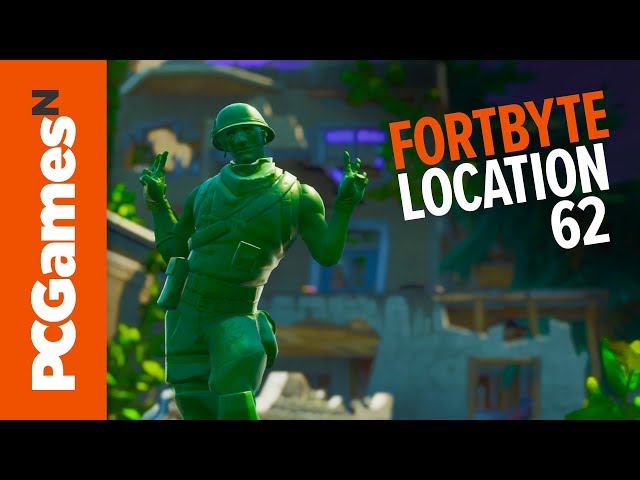 In the overgrown basement of the mansion of which you can see above, bear to the right of the room once you arrive. There, near some greenery and tatty furniture is where you can add Fortnite Fortbyte 62 to your collection.
Sweet like summer:
Fortnite 14 Days of Summer challenges
Fortnite beach parties locations
Fortnite giant beach balls locations
And there you go, that's how to get Fortbyte 62 in Fortnite. If you're not logging in daily, you could well be behind on your puzzle piece collecting, so here's where you can find Fortnite Fortbyte 100 and Fortnite Fortbyte 60. Those are two recent ones, so you might have to look back a bit further in our guides pages to find some of the older ones and ensure your collection is up to date.