Where is Fortnite Fortbyte 63? Another week has started and, as ever, we'll be kicking off Monday with a little scavenger hunt for those pesky little computerised collectables once again. The location we're looking for today requires a bit of searching, but we're going to be doing all the legwork for you with this guide.
As you'll most likely know by now, the Fortnite Fortbytes locations challenges see us on the lookout for a new byte-sized computer chip every day of season 9. The rewards are plentiful, so you'll be wanting to look between Lucky Landing and Fatal Fields in Fortnite to find Fortbyte 63. When you get them all you'll see the fully revealed Jonesy image, and the feeling of a job well done, which should never be underestimated.
So, when it comes to today's puzzle piece, you need to search between Fortnite's Lucky Landing and Fatal Fields. Just in case you don't know where these spots are, the former is on the south coast in the middle of the island, and the latter north of that. But let's get into the specifics: here's where to find Fortnite Fortbyte 63.
Fortnite Fortbyte 63: between Lucky Landing and Fatal Fields location
Fortbyte 63 is closer to Lucky Landing named area than it is Fatal Fields, so aim your descent from the Battle Bus here. At the northernmost point of the settlement, a road veers left into the ice biome, and you can take a right towards the petrol station, 'Pass 'N' Gas'.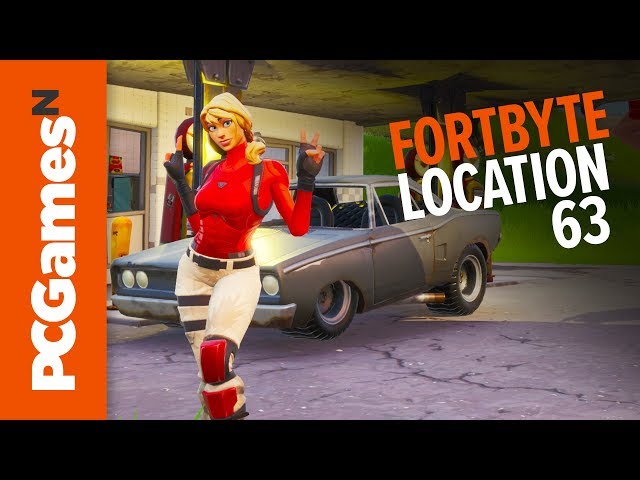 Or you can just head north straight from Lucky Landing over a small hill. Either way, you should find a petrol fill up point that looks something like the video above. Fortnite Fortbyte 63 can be found between the pumps outside the front of the shop. No cosmetics or emotes are necessary here, just pick up the item at your leisure.
Fortbyte-sized guides:
Fortnite Fortbyte 53
Fortnite Fortbyte 62
Fortnite Fortbyte 100
And there you are, that's how to get Fortnite Fortbyte 63 between Lucky Landing and Fatal Fields. We've been at this type of challenge a while now, so take the opportunity to make sure you're all caught up so you can maximise your rewards from this current season.