Where is Fortnite Fortbyte 68 in Fortnite? The next piece of the mysterious computerised puzzle has gone live in Epic's bizarre battle royale game, so that means we've got some hunting down to do. This time we're going to find the Fortnite snowy town bookshop to find the next piece of the puzzle.
If you're new to the whole Fortnite Fortbytes locations challenges thing – firstly, what have you been doing all this time? – then you're going to need catching up on the 99 'bytes' that can be found in the game, and what they do. Once you find Fortnite Fortbyte 68, for example, an image in the game's Fortbytes challenges tab will gradually be revealed.
So, for this guide, we have braved the bitter chilliness of the environs surrounding the Fortnite's snowy town bookshop in order to procure the knowledge you need to find out more about the season 9 story, and get yourself a fresh new Fortnite skin. Who said reading was a waste of time? So, here's where to find Fortnite Fortbyte 68.
Fortnite Fortbyte 68: snowy town bookshop location
We're heading over to the northwest corner of Happy Hamlets which itself is based in the – yeah, you guessed it – ice biome. We're guessing you probably know where that is by now. When you're flying in, aim for the pink/purple building in the northwestern corner of the named area.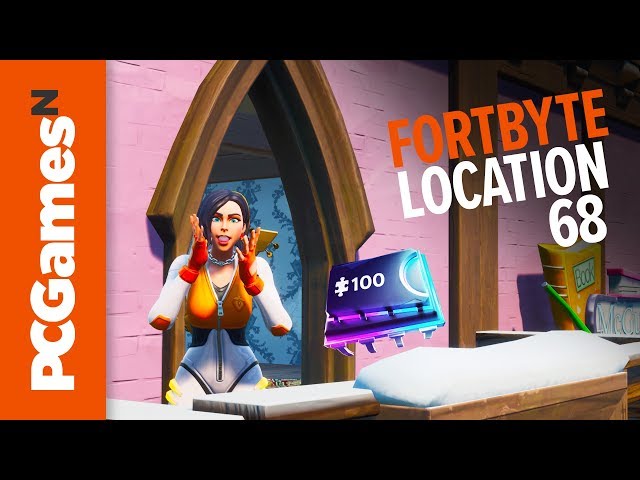 With the video above to walk you through it, you can get a better idea of what we mean. The next step is to head up the stairs to the first floor. Equally, you can just fly in through the balcony. Either way, Fortnite Fortbyte 68 will be on that upper floor, just begging to be picked up. It'll be floating above the jazzy carpet near the balcony and top of the stairs – you can't miss it.
Fortbytes, Fortbytes, Fortbytes:
Fortnite Fortbyte 91
Fortnite Fortbyte 80
Fortnite Fortbyte 26
And hey presto, that's where to get Fortnite Fortbyte 68 in a snowy town bookshop. While you're inside the shop, we hope you find a moment to flip a book open. Find one with some pictures, at the very least.