Where is Fortbyte 76 in Fortnite? The next piece of the Battle Royale mystery has appeared in the game, and we're getting geared up to find it for you. These secret computerised chips are sneakily hidden all over the place, and you're going to want to find each and every one.
If you don't know how the Fortnite Fortbytes locations challenges work yet, there are 99 different hidden collectables up for grabs and, once you successfully snap up each one, an image will slowly reveal itself in the challenges menu. You'll also get a premium Fortnite skin, so you're next challenge is to find a the secret in a Fortnite historical diorama in an insurance building.
This one is a bit tricky, as it doesn't give us a named location to narrow this down. On the plus side, you don't need to have a specific skin or cosmetic equipped, you can just go as your lovely little self. So, let's get to it: we're going to show you where to find Fortnite Fortbyte 76 behind a historical diorama in an insurance building.
Fortnite Fortbyte 76: historical diorama insurance building location
Buildings of this type aren't common in Fortnite – how often do you find yourself needing to sort your finances out during a game of Battle Royale? – but they are likely to turn up in urban environments. This is right in the case of Fortbyte 76: the Fortnite insurance building is called No Sweat insurance, and can be found northeast of the clock tower in Neo Tilted.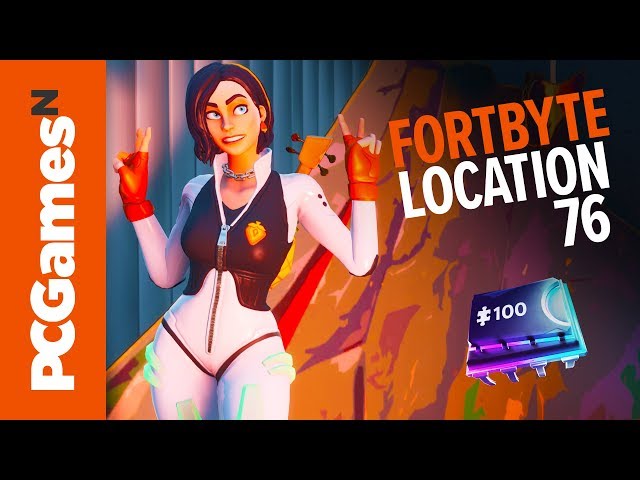 When you're there, head up to the first floor. Have a quick poke around and you should then see the Fortnite historical diorama: a representation of the volcano explosion in the dying embers of season eight. The byte is just behind and to the right of the diorama, behind the volcano's fireballs.
More Fortbyte guides:
Fortnite Fortbyte 68
Fortnite Fortbyte 91
Fortnite Fortbyte 80
So, there you have it, that's how to add Fortnite Fortbyte 76 to your swelling collection. There are plenty more to get, so keep take a look at the guide links above to help you find a few more.