Two Fortnite streamers, NICKMERCS and Tfue, have contributed to the ongoing debate around auto-aim for PC players using a controller. Nick 'NICKMERCS' Kolcheff, a streamer for the esports organisation 100 Thieves, defended aim assist earlier this week. Then another Fornite professional, and FaZe clan member, Turner 'Tfue' Tenney, publicly agreed with him.
The aim assist function is designed to help players shoot moving targets when using a controller on PC. When aiming with aim assist the screen automatically adjusts to follow the player being aimed at. The debate around the assist is whether it gives players using a controller an unfair advantage when playing on PC.
This debate was first sparked by Tyler 'Ninja' Blevins who made comments about the assist after finding out a player who had killed him in-game was using a controller. "Controller auto-aim dude, I totally disagree with it," he said. "I don't think it should be in the game. If you plug in a controller to a PC, have fun, there should be no aim-assist." You can see Ninja's comments during his stream at the start of the video below.
NICKMERCS, who uses a controller, disagrees with Ninja and voiced his opinions in a recent stream. "Anybody with a brain – they know that controller players, in the grand scheme of things, are at a huge disadvantage when it comes to the game of Fortnite," he says.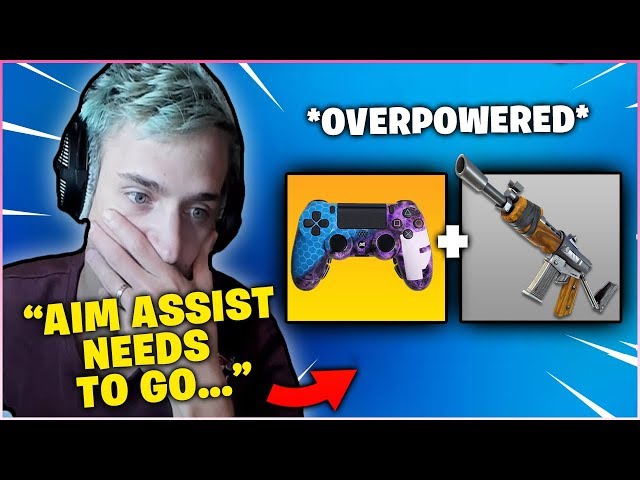 "If you guys think that because of aim-assist and the recent changes to building that we're not at an advantage? I don't know, I don't understand you guys."
NICKMERCS highlighted the use of controllers by professional Fortnite players. "No offence to [Ninja], he doesn't play in any of the big tournaments," NICKMERS says. "Maybe he should play a couple tournaments and see what it's like because it's not the same.
"The way these pro PC players move and how fast they can do things, there's only so much we will ever be able to do to keep up with that."
Tfue agrees with NICKMERCS, speaking out about the aim assist in his stream. "These mother fuckers on controllers are aiming with a god damn, I don't even know dude, a legit piece of plastic." Tfue continued, saying that playing without aim assist active "the game on Xbox would be so much less enjoyable. It would kill their game."
This assist issue fits into the bigger conversation of the casual versus. the competitive nature of Fortnite. Epic Games has no current plans to take aim assist away from players using a controller on PC, so you don't have to start converting to keyboard and mouse just yet. But if this debate continues to keep gathering attention from both big streamers and pro gamers then Epic might have to address the issue.