It probably won't come as too much of a surprise, but Fortnite star Tyler 'Ninja' Blevins has a lot of opinions when it comes to the world's biggest battle royale. In a quickfire interview with IGN, the streamer and YouTuber discussed his favourite weapons, the direction he'd like to see the game take, and his relationship with rapper Drake.
The first question posed to Ninja during the interview was a simple one – "What's your favourite Fortnite gun?" I was expecting someone with the precision and skill of Ninja to opt for a staple, something like the Pump Shotgun or a legendary Assault Rifle. Surprisingly though, Ninja seems to be a fan of a more haphazard approach, replying that his favourite gun is the grenade launcher.
At the other end of the scale, his least-favourite gun is the relatively recent addition of the Drum Gun, which he says he'd remove from the game. When asked what he'd add in its place, Ninja said he wants to see a laser gun brought to the game, which would tie in with the lightsaber-wielding jedi skin he hopes Epic will add.
Later in the interview, Ninja (whose real name is Richard, who knew?) discussed games in general. His favourite game of all time is apparently Final Fantasy XI, and sticking with that theme, the game he's looking forward to most is the upcoming remake of Final Fantasy VII. When asked if he'd return to the Halo franchise (Ninja first made a name for himself within the Halo 2 community) with the release of Halo Infinite, he said he would only play if the game came to PC, and even then it was unlikely.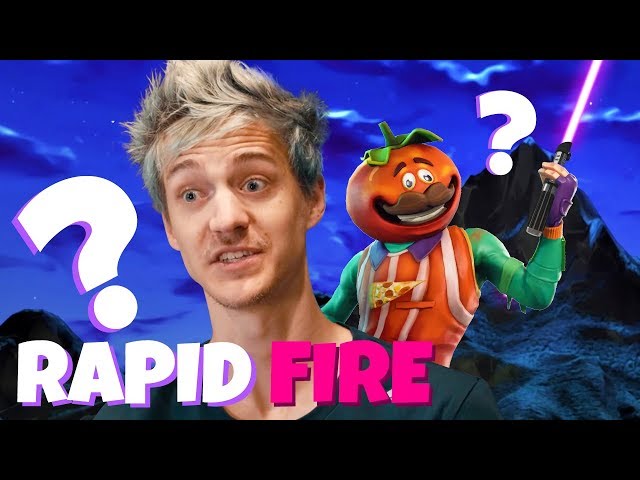 You can check out the rest of the interview in the video above. You can also check out our Fortnite tips and tricks to help you out next time you drop off the Battle Bus – they might not make you as good as Ninja, but then we're just here to help, not produce miracles.