When is Fortnite patch notes 5.4 coming out? This week is shaping up to be one of the biggest refreshes to Epic's battle royale game. Fortnite patch notes 5.4 are confirmed to have a new Grappler item to help you swing between player-created constructions, and a Payday-style limited time event mode: The Getaway.
So there's plenty to be excited about when it comes to Fortnite patch notes 5.4. Much of what we will see come to the game this week was announced at PAX West, and we can't wait to get our hands on the new items and changes. We will see Fortnite's Revolver vaulted, so it's not all good news, but there will also be plenty of bug fixes and quality of life improvements.
The headline addition to the Fortnite patch notes 5.4 is the heist-themed event which will net you a Fortnite High Stakes skin if you complete all your skin-specific Fortnite High Stakes challenges. The High Stakes event also promises to bring the Fortnite The Getaway LTM, and the gravity-defying new weapon, the Fortnite Grappler. There's certain to be plenty more to come, so here's everything we know about the Fortnite patch notes 5.4.
Fortnite patch notes 5.4 release time
The Fortnite 5.4 patch notes are live now! Here they are in full below.
---
Fortnite patch notes 5.4 – Getaway LTM
Welcome to The Getaway! In this mode, players will race to find a Jewel and take it to a Getaway Van before everyone else to win the match!
Mode details:
Jewels
Jewels can be found in special supply drop safes, located along the edge of the first storm circle. The safes take a long time to open, so make sure the area is clear before attempting to claim a Jewel!
Four Jewels will be in play on the map AT ALL TIMES. If a player escapes with a Jewel or one is lost in the storm, a new supply drop will bring a replacement.
When a Jewel is picked up, it will be visible on the map to everyone for 30 seconds.
Carrying a Jewel will give players health & shields over time, but also slow them down by 10%.
Getaway Vans
Four TOTAL Getaway Vans will be in the map, three that arrive early in the match and one more that shows up near the end.
Getaway Vans float in mid-air, Jewel carriers must build up and then interact with them in order to complete a Getaway.
The goal is to find or steal a Jewel and take it to one of the vans in order to secure a Victory Royale.
Once they arrive, safe drops and Getaway Vans will be visible on the map at all times.
12 red "Pursuit" Supply Drops land at the very beginning of the match. These carry a variety of longer-range weapons and other items, and are the only way to obtain the new Grappler in this mode.
Resource harvesting amounts increased by 50%.
Only Rare weapons or higher will be found in this mode.
Rifts, Rift-To-Go and Launchpads have been removed to reduce mobility for Getaway Van engagements.
Profile Stats (K/D & Wins) are tracked in this mode, but Umbrellas are not awarded for wins.
---
Fortnite patch notes 5.4 – Grappler
Grappler – added
Ability

Fire at a nearby object to pull yourself towards it
Location

Vending Machines, floor loot, Treasure Chests, Supply Drops, and Supply Llamas
Charges

15, discarded when charges depleted
Rarity

Epic
---
Fortnite patch notes 5.4 – general bug fixes
Fixed an issue causing some unneeded assets to remain in memory when switching from Save the World to Battle Royale or vice-versa.
Fixed an issue that caused camera jitter when simultaneously canceling sprint while reloading and aiming down sights.
Fixed a rare server crash that could occur when a player edits a building.
Fixed an issue that prevented weapons from firing when holding the fire button during a weapon swap.
Fixed an issue causing the crosshair to drift if player rapidly presses aim down sights with sniper rifles.
Fixed some buildings' destruction effects being played twice.
Fixed ammo quantity counts not updating properly on the inventory screen details panel.
---
Fortnite patch notes 5.4 – weapons and items
Vaulted Revolvers
Rarity color adjustments
Some items have been removed or modified to better reflect their effectiveness. This only affects their colors and other characteristics are unchanged.
Removed Common Suppressed Submachine Gun
Removed Rare Rocket Launcher
Availability of Epic and Legendary Rocket Launchers increased slightly to compensate.
Increased Epic Rocket Launchers drop rate by 18.57%
Increased Legendary rocket launcher drop rate by 2.05%
Removed Legendary Bolt-action Sniper Rifle
Removed Rare Pistol
Remote Explosives increased from Rare to Epic.
Port-a-Fort decreased from Epic to Rare.
Semi-Auto Sniper rifle decreased from Epic and Legendary to Uncommon and Rare.
Increased the frequency that the Semi-Auto sniper rifles drop to align more with their rarity class.
Increased Uncommon Semi-Auto sniper drop rate by 9.29%
Increased Rare Semi-Auto sniper drop rate by 9.29%
Dual pistols decreased in rarity from Epic and Legendary to Rare and Epic.
Suppressed pistol decreased in rarity from Epic and Legendary to Rare and Epic.
Burst Assault Rifle accuracy adjustments.
When holding down the trigger, the first 2 bursts are more accurate.
Spread down sights benefit increased from 35% to 40%.
Crouch spread benefit reduced from 25% to 20%.
Jumping/Falling spread penalty reduced from 25% to 10%.
Sprinting spread penalty reduced from 50% to 30%.
Increased drop stack count for Boogie Bomb from 1 to 2.
Increased maximum stack size for Stink Bomb from 5 to 6.
Increased maximum stack size for Shield Potions from 2 to 3.
Fixed an issue that prevented audio and effects from playing on other players who are consuming a shield potion.
---
Fortnite 5.4 patch notes – gameplay
In the moving storm phases, when the storm reaches its destination, it will cause a surge of energy that destroys player-built structures located on the storm wall.
Fixed an issue causing supply drop landing effects to play twice in some circumstances.
Fixed inconsistencies with auto-pickup when landing on pickups, and when pickups are first thrown from containers.
---
Fortnite patch notes 5.4 – UI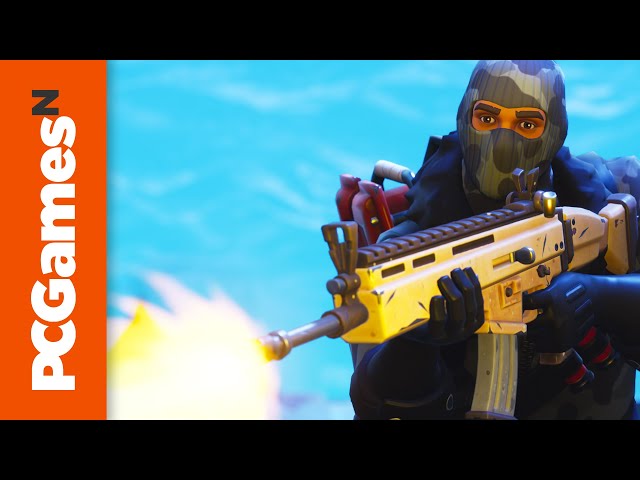 Emote picker is now available in the lobby, no longer limited to just playing the first emote selected in your locker.
Item shop now shows the item description when inspecting.
Road Trip week 8 and 9 display the correct completion value now.
Fixed issue where challenge bundles did not display the correct number of stars from the challenge tab.
Fixed issue where style preview would sometimes not be centered in the view correctly.
Banner rewards from the Battle Pass no longer show an empty description box.
Fixed an issue wherein rerolling a daily quest in Battle Royale would not select the new quest.
Style gift boxes will now show the 3D preview of the character with the style applied.
Fixed an issue where navigating in the locker would cause some drop in performance.
Fixed an issue where changing away from the Challenges Tab would cause some information to get stuck on the screen.
Fix an issue where continuously clicking on the "Select Game Mode" page would prevent it from closing.
Fixed an issue where using touch to open/close the map would cause d-pad controls to become unresponsive.
Fixed an issue with the loading screen showing incorrect information for non-leader party members.
---
Fortnite patch notes 5.4 – art, animation, and replay
Fixed an issue that could cause player models to not appear while in game.
Fixed an issue with spray quality temporarily appearing pixelated for some sprays.
Fixed the Downshift Glider rear light trails from clipping with geometry.
Fixed duplicate elimination effects on the recording player.
---
Fortnite patch notes 5.4 – performance and audio
Fixed a large performance regression related to effects. This was causing poor framerate in the 5.30 release.
Boosted volume of the Remote Explosives placement sound.
Improve spatialization of the chest open sound for other players nearby.
Reduced the spam of item pickup "bounce" sounds when pickups are sliding down hills.
Fixed several UI sound issues.
---