Brace yourself for the tricky third stage of the N-O-M-S sign challenge as searching for the letter M in Dusty Divot may be the hardest part of this ten-star Battle Pass challenge. Why? Dusty Divot is difficult to land alone in, and it's particularly difficult to reach the ground before other players, so expect a fight before you can claim the letter M.
By now you should have the letter O west of Pleasant Park and letter S in Wailing Woods, meaning you're nearing the halfway point in this tricky challenge. Owing to the popularity and density of Dusty Divot, we're here to help you find the third letter to complete this challenge, so read on for a quick walkthrough on where to search for the letter M in Dusty Divot.
For the letter M you'll need to drop into the south-east portion of Dusty Divot and look for the metal structures there. There is often a weapon spawn on top of the research hut that the letter spawns in so drop on top, grab the gun, and then jump down to the ground. Simply head through the exterior door (shutting it behind you) and then open up the door on the immediate right. On the floor you will find the letter M.
Once you've wandered over to it and interacted with it this stage of the challenge is complete and you're free to pursue the final letter. Here's what it looks like in-game:
If you're still struggling then here's a video: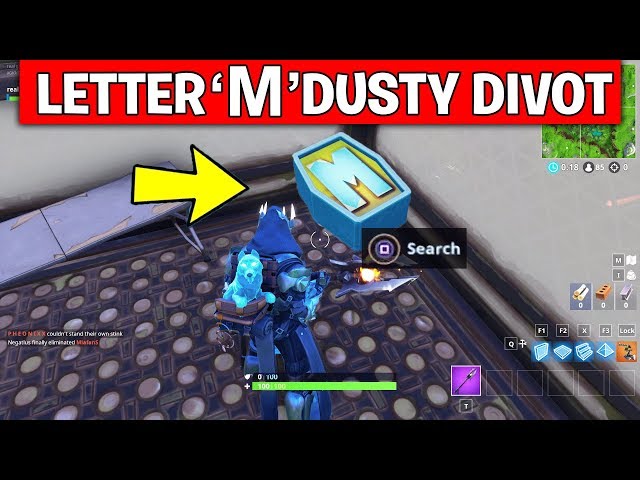 We also have guide on dancing in front of every Fortnite holiday tree and the location of all Fortnite fireworks. For more help on upcoming Fortnite challenges make sure you check back with PCGamesN.