Want to know what the best Fortnite skins are? It's hard to believe it's been almost six years since the debut of Fortnite battle royale. Epic has rolled out iconic skins over the years and partnered with artists, movies, and TV shows to attract fans to the multiplayer game.
The range of Fortnite skins makes it one of the best battle royale games in gaming history, with each event and update bringing multiple skins to help cosmetic lovers stack up their inventory. From Winterfest celebrations to Ariana Grande's rift concert, there are skins for every occasion scattered across the best PC game's roster. Some Fortnite skins are better than others in terms of rarity, visuals, backstory, theme, and more.
The best Fortnite skins in 2023 are:
Shadow Midas
Though an antagonist, Midas was the most popular Fortnite character in 2021. Inspired by a Greek God, the founder of GHOST and leader of SHADOW turns everything he touches into gold. So it's not surprising that Midas' skins are the most prolific ones in Fortnite, as he started the gold skin trend in the game. Shadow Midas sold well because of his popularity and the character's immersive backstory, though players weren't too pleased about the lack of Back Bling.
Availability: Despite being a costly set without a Back Bling, players still go gaga over the Shadow Midas outfit. Typically, the purple Midas visits the store every 167 days, so players should keep their eyes peeled around March 24, 2023.
Cost and season: 1,500 V-Bucks, Chapter 2: Season 8
Styles: Purple reactive
Ghoul Trooper Skin
Ghoul Trooper became synonymous with Fortnite in 2017. The simple, no-nonsense skin stands the test of time, as it's still a highly sought-after item. If you have the Ghoul Trooper, you may want to add some extra security to your account.
Availability: Ghoul Trooper is rare because its item shop cycles are exceedingly long. Unlike most skins, it appears once a year. Eager players should watch out for a wild ghoul around September 30, 2023.
Cost and season: 1,500 V-Bucks, Chapter 1: Season 1
Styles: Default and Zombie
Black Widow
The first of the collabs on this list, Black Widow is one of the founding members of Marvel's Avengers and a deadly assassin. She first appeared in Fortnite back in 2019 and instantly became a favourite. Black Widow fans stacked their inventories with simple latex outfits, and given how scarce it is now, they should be glad they did. We also got a Snow outfit variant based on the Black Widow film, but we all know the original is still the best one.
Availability: Black Widow is now one of the rarest outfits in the item shop. She was last seen in the shop 1380 days ago after being released in the Avengers Set in 2019. But she's not unobtainable, so players must keep their eyes peeled and fingers crossed. The item shop is the only hope.
Cost and season: 1,500 V-Bucks, Chapter 1: Season 8
Styles: Red and Blonde
John Wick
Who doesn't love John Wick? The iconic action hero appeared in Fortnite in his suave black suit with no frills attached. Now, Fortnite players like the bling and loud colours, but John Wick was an exception. Thanks to his understated style, he became one of the favourites among the fans.
Availability: John Wick's outfit is extremely rare in Fortnite, hence its popularity. It last appeared more than 600 days ago, but players can hope for it to return since it's obtainable. The item shop is the only way to buy this fit, so hopefully, with John Wick: Chapter 4 now in cinemas, we'll see the return of Keanu Reeves in the battle royale game.
Cost and season: 2,000 V-Bucks, Chapter 1: Season 9
Styles: John Wick, Damaged John Wick
Special Forces
Most OG skins are too boring for the tastes of Fortnite players, but not Special Forces. Donned in a sophisticated police outfit with a stylish hat, this rare skin is undoubtedly worth the V-bucks. A well-styled scarf and a kind face complete this valuable outfit.
Availability: Special Forces is fully capable of returning to the item shop, but it's still Fortnite's scarce item. The understated skin hasn't seen the light of day since January 2019, meaning it was last available over 1,400 days ago. But, it could return anytime to the item shop. If it does, keep 1,200 V-bucks prepared.
Cost and season: 1,200 V-Bucks, Chapter 1: Season 1
Styles: N/A
Lynx
Fortnite skin collectors adore their Lynx skin for the full-dark tier-7 cat lady wardrobe. Rumoured wife of Meowscles, Lynx is a rare skin. So, those who own it can wear it with pride.
Availability: Lynx is no longer available. She could be obtained via Chapter 1: Season 7 battle pass at tier 1.
Cost and season: Chapter 1: Season 7 battle pass
Styles: Default, Red, Blue, and Black
Black Knight
Clad in sturdy and rustic chains, Black Knight is a popular outfit in Fortnite. However, nobody knows how the soldier looks since he always covers his face with a solid metal helmet. Black Knight is one of the OG skins, which is why those smart enough to cop it cash out every opportunity to flex the rare item.
Availability: Released in December 2017, Red Knight is now out of stock. It could be unlocked after a sweaty battle pass grind at Tier-70. But, players can no longer purchase it from the item shop.
Cost and season: Chapter 1: Season 2 battle pass
Styles: N/A
Golden Peely
In February 2019, Epic did the unthinkable and rolled out a giant yellow banana as an outfit. It was ridiculous, but it worked; the 2019 Fortnite banana fever was proof. Peely was a massive success, urging the devs to release Agent Peely skin, which turns golden at Level 300. Players dressed in hilarious golden bananas still stand out in Fortnite games crammed with superhero skins.
Availability: Unfortunately, Agent Peely is no longer purchasable, but players can shop the other variants like Potassius Peels, Toon Peely, and even Peely bone. But the not-for-sale status of the Agent Peely skin makes it so rare. Those who shopped it in 2020 consider themselves lucky!
Cost and season: Chapter 2: Season 2 battle pass
Styles: Default, Ghost, Shadow, and Golden Agent
Galaxy
Galaxy was the ultimate Holy Grail for skin collectors. The outfit was fashioned on a green screen lit up with an actual galaxy, making it a class apart. Glittering in stars and space, this chart-topping skin is now like gold dust in Fortnite.
Availability: Galaxy isn't rare because it's old or expensive. It's rare because it was highly exclusive. The otherworldly skin could only be obtained using Samsung Galaxy Note 9. So its return is highly unlikely.
Cost and season: Chapter 1: Season 5
Styles: N/A
Renegade Raider skin
Renegade Raider doesn't look like much, but it's still a highly coveted item that players would kill to have again. This outfit is solid proof that you're not a seasonal Fortnite fan but have been around before it was cool. So, if you own a piece, keep it close. Your account is a pipe dream of any Fortnite fan.
Availability: It's no longer available and will likely never return. Renegade Raider is special because it existed before the inception of Battle Pass. Those with the skin had to play till level 20 to pay 1,200 V bucks and buy it.
Cost and season: Chapter 1: Season 1 shop
Styles: Default and checkered
Resident Evil skins
More recently, Fortnite has experimented with collaborations with various video games. These include the likes of Doom, The Witcher, Assassin's Creed, Street Fighter, and Tomb Raider, among many others. However, if you ask us which ones are the best, we have a soft spot for the Resident Evil skins.
Based on each main character's appearance from numerous remakes, even the back bling is a nod to the games these skins originate from, such as Claire's RPD key set and Leon's attaché case back blings. Both Chris Redfield and Jill Valentine also got variants based on their appearances in Resident Evil: Village and Resident Evil 3 Remake, respectively, on top of costumes based on their STARS uniforms from Resident Evil.
Availability: All four skins were last available in April 2023. It may be some time before they return to the shop.
Cost and season:
Chris Redfield and Jill Valentine – 1,500 V-Bucks, Chapter 2, Season 8.
Claire Redfield and Leon S. Kennedy – 1,500 V-Bucks, Chapter 4 Season 2
Styles:
Chris Redfield – default and Winter
Jill Valentine – default and Raccoon City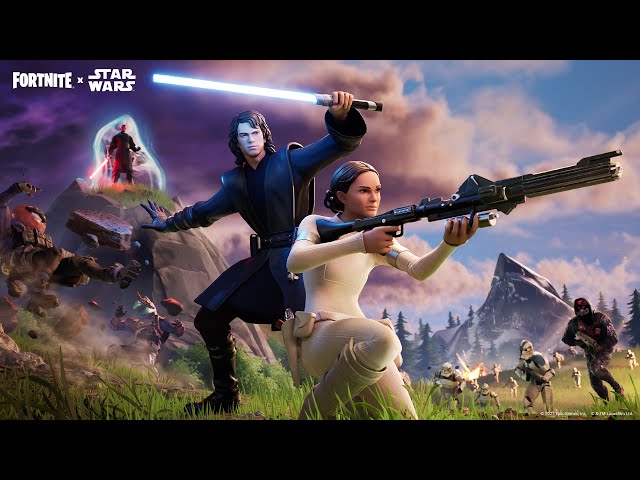 Star Wars skins
There have been several Star Wars characters over the years, but with the latest Fortnite update, we now have more representation from the prequel trilogy.
It comes with a unique battle pass, the premium version of which costs 1,000 V-Bucks. You'll then need to complete quests to earn 11,000 Galactic Reputation to get the Clone Trooper outfit on the free battle pass track and the Wolf Pack Trooper, Ahsoka's Clone Trooper, and Darth Maul on the premium track. Buying the premium track also gets you the Coruscant Guard outfit. This is available until May 23, 2023.
In addition, the following Star Wars skins are now available in the item shop starting from May 2nd, with more added over the next few weeks:
Anakin Skywalker – 1,500 V-Bucks, Chapter 4 Season 2
Padmé Amidala – 1,500 V-Bucks, Chapter 4 Season 2
501st Trooper – 800 V-Bucks (as part of a bundle pack), Chapter 4 Season 2
212th Battalion Trooper – 800 V-Bucks (as part of a bundle pack), Chapter 4 Season 2
Kylo Ren – 1,500 V-Bucks, Chapter 2 Season 1
Rey – 1,500 V-Bucks, Chapter 2 Season 1
Finn – 1,500 V-Bucks, Chapter 2 Season 1
Sith Trooper – 1,500 V-Bucks, Chapter 2 Season 1
Imperial Stormtrooper – 1,500 V-Bucks, Chapter 2 Season 1
Zorii Bliss – 1,500 V-Bucks, Chapter 2 Season 1
Boba Fett – 1,500 V-Bucks, Chapter 3 Season 1
Fennec Shand – 1,500 V-Bucks, Chapter 3 Season 1
Krrsantan – 1,500 V-Bucks, Chapter 3 Season 1
Obi-Wan Kenobi – 1,600 V-Bucks, Chapter 3 Season 2
Luke Skywalker – 1,500 V-Bucks, Chapter 3 Season 4
Han Solo – 1,500 V-Bucks, Chapter 3 Season 4
Leia Organa – 1,500 V-Bucks, Chapter 3 Season 4
These are our picks for the best skins in Fortnite. If you're new to the game, you can start collecting items by purchasing rare battle pass skins and guns in Chapter 4 Season 1 since they rarely ever return.
Additional entries by Dave Irwin