We're already past the halfway mark in Fortnite season 5, so you should more or less know the drill when it comes to Fortnite challenges. As usual, there are three free Fortnite week 6 challenges that anyone can complete, as well as four Battle Pass challenges that you can only access if you've bought into Epic's cosmetic system.
Unless there are any last minute surprises, expect the Fortnite week 6 challenges to go live at 2pm BST – that's 9am ET and 6am PT for those of you from across the pond. The following Fortnite challenges, as is tradition, have been leaked ahead of time courtesy of @FNLeak. While that means they could change before they go live, we're pretty confident that this is the final list.
On top of the weapon eliminations and challenges to which we have long become accustomed, this week we will completing the Fortnite timed trials locations, most likely with an ATK, and carrying out a Fortnite search where Stone Heads are looking on the map. Then, once you've completed all of this week's Fortnite challenges, you can find the secret Fortnite Road Trip challenges week 6 Battle Star. But, before we get to that, below you'll find the Fortnite week 6 challenges and how to complete them – just click on the challenge you need help with to take you where you need to go.
Fortnite week 6 challenges – Free
Deal headshot damage to opponents (0/500) – 5
This week's damage challenge is a bit of a toughie, so be sure to practice your aim if you want to deal 500 headshot damage to your foes. That said, it's worth reiterating that you don't need to do all this in one game – if you do then we applaud you – but you can always take the cowardly route and sneak up on an enemy for an easy headshot and scarper. Which is something we wouldn't dream of doing, of course.
Harvest building resources with a pickaxe (0/3000) – 5
To truly be successful in Fortnite you're going to need to, in Fortnite community parlance, "just build, lol." We can't say we disagree but, if you're going to build, you're going to need building resources with which to do so. During any down time in a match you should be smashing down trees and structures for the encounters ahead. If you're doing that, this task will be done in no time.
Search where the Stone Heads are looking (0/1) – 10
If you've noticed these massive grey bonces dotted across the map, you'll know what we're talking about here. We think we have a pretty good idea as to the solution to this one, too, so keep an eye out for our incoming Fortnite Stone Heads locations guide.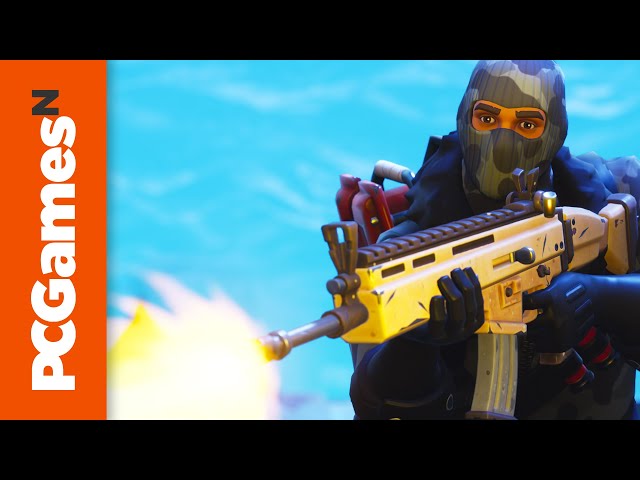 FORTNITE WEEK 6 CHALLENGES – Battle Pass
Search chests in Lonely Lodge (0/7) – 5
The forested western locale of Lonely Lodge is your chest spot this week, and there are plenty of spawn chances to win you these five Battle Stars. Remember you don't have to get all of these chests in one match, so you can leave this Lonely Lodge chests challenge a while if things are a little too busy.
Complete timed trials (0/5) – 5
This Fortnite week 6 challenge is a bit of a mystery so far, but, like last week's Fortnite Flaming Hoops locations objective, it appears as if we'll be strapping ourselves into the All Terrain Kart for another spin. When the Fortnite challenges are live we'll know more, so stay tuned for our complete Fortnite time trials locations guide.
Minigun or Light Machine Gun eliminations (0/2) – 10
Both these weapons pack quite the punch, so getting two eliminations with these heavy weapons shouldn't give you too much trouble for ten juicy battle stars. Just so you know what suits you more, the Minigun has an unlimited clip and higher DPS, whereas the LMG you can pull out and shoot the LMG much faster.
Eliminate opponents in Tilted Towers (0/3) – 10
This is a toughie if you're not the best in combat, but sometimes the sheer chaos of a Tilted drop can lead to some easy kills. Try lurking on the edges of the map and picking unsuspecting players off as they try to escape. If you can nab a sniper – such as the Fortnite Heavy Sniper that landed as part of the latest Fortnite 5.2 patch notes – that's a definite plus. But, if you can't, this is a Fortnite challenge that's probably going to take plenty of trial and error.