Where is the Fortnite Infinity Blade location? A brand new weapon has arrived in Fortnite and it's basically a battle royale version of Excalibur. This shiny, sizeable blade can come to the game as part of the Fortnite patch notes 7.01, and we're going to tell you everything you need to know about the Fortnite Infinity Blade.
First, here are its abilities. This magical Fortnite sword is a mythic melee weapon that allows the wielder to deal a powerful slash on the enemies. This move deals 75 damage to players and ravages structures in one hit. That's not all, though: Alternate Fire allows a player to leap large distances, destroying buildings and harming other players in its path. You also get increased and regenerating health and shields. In that sense, it's basically like the Infinity Gauntlet from the Fortnite Thanos event crossed with the Quadcrasher vehicle.
That's all well and good, but where is the Fortnite Infinity Blade, you might ask. To help you dominate your battle royale rivals we're going to be heading over to the new iceberg biome that has swept across the south-west of the map to show you exactly where you can find the mythic weapon to help you win, or just to have a great time leaping around and smashing people up. Anyway, here's the Fortnite Infinity Blade location.
Fortnite Infinity Blade location
We already know from the latest patch notes that the Fortnite Infinity Blade location in the new area of Polar Peak. If you know the new area well and have watched the teaser trailer Epic released on Twitter, you need to drop in the spot shown in the video. For those who don't know where that is, there are two built up areas in Polar Peaks – drop in between them. Just in case you're not sure, we've included a screenshot and a map (click to enlarge) below.
When you land you should see a castle tower and a courtyard. You should also be able to see a glow in the middle of the courtyard – that's the Fortnite Infinity Blade. Bear in mind, though, that it's a very tough weapon to get straight away. You need to hold down E for some time to claim the sword, and it gives a generous time window for other would-be sword wielders. We recommend finding a weapon nearby to get some quick kills to clear room for yourself to pull the Infinity Blade from the snowy stone.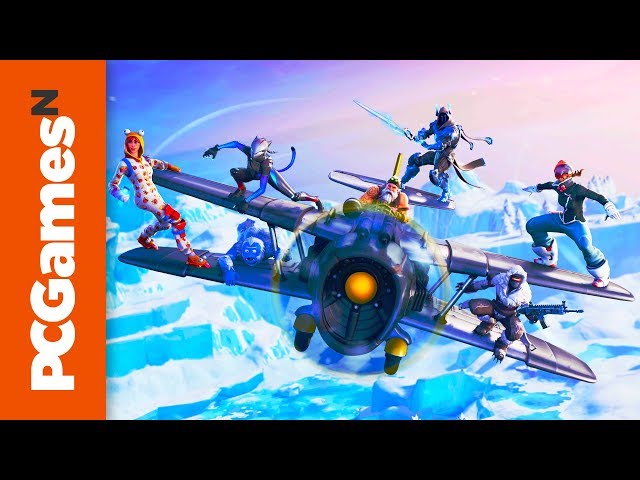 So that's where to find the Fortnite Infinity Blade, but there's plenty more where that came from when it comes to Fortnite season 7. Since the epic sword can be found in the new iceberg biome, let us show you around all the new Fortnite season 7 map changes in the video above. There's also the Fortnite Wraps that allow you to set bespoke weapon and vehicle skins. Now that you're an expert on Fortnite season 7 and the Infinity Blade, we wish you many more festive Victory Royales.