A Fortnite Miles Morales Spider-Man skin and update have been added to the battle royale game, as the protagonist of Spider-Man: Across the Spider-Verse comes to Fortnite in a slightly delayed move, directly following the big Star Wars prequels crossover.
While we've all been waiting to hear official word on Miles Morales in Fortnire in recent weeks, Epic's announcement finally fully reveals what Miles Morales Spider-Man and Spider-Man 2099 bring to the table.
You can expect quite a lot in the Spider-Man Miles Morales Fortnite crossover, such as quests with free rewards, a Miles Morales skin in the item shop, the return of everyone's favorite web-shooters for swinging across the island, and Spider-Gwen is also back as an NPC on the map.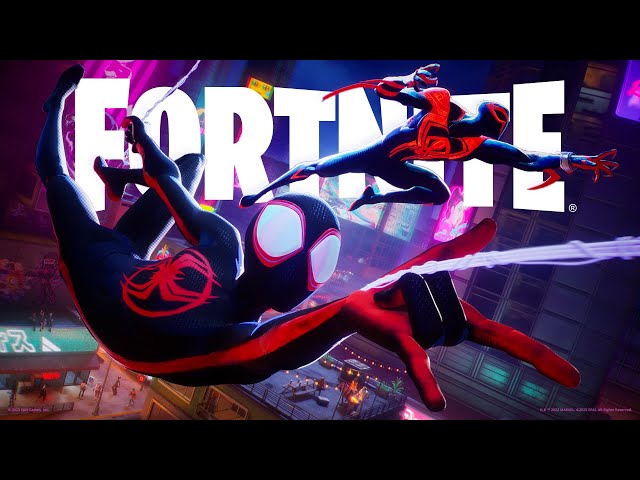 Fortnite Spider-Man Miles Morales crossover
Here's everything in the crossover fully detailed and broken down.
Spider-Man (Miles Morales) outfit and matching accessories
Spider-Man 2099 outfit and matching accessories
Spider-Verse Web-Shooters in-game
Silk & Cologne (EI8HT version) Lobby Track
You can pick up the Spider-Verse Web-Shooters during a match, or find Spider-Gwen and change bars for them instead during play. The two Spider-Men skins and accessories can also be purchased in the item shop, and the bundle also includes a MEGA City Swing loading screen too.
Fortnite v.24.40 also marks the introduction of Fortnite Ranked mode as well, which will introduce multiple tiers depending on your skill level that you can rise up alone or with friends. You'll also be matched with players close to your own skill level, with both the Battle Royale and Zero Build game modes supported at launch. Epic says it will be updating and tweaking Ranked over time as well.
While you dive back into the battle royale shooter, we've got all the Fortnite tips and tricks you'll ever need and a breakdown of all the best Fortnite weapons too. Both of which are sure to give you an edge.