The Black Ice weapon skin is one of the rarest you'll find in Rainbow Six Siege. Introduced as part of the FPS game's first free expansion in 2016, it's a cool (slight pun intended), matte-black distinctively tinged with a minty blue frost effect, and is an epic item only available through alpha packs, so it's hard to come by. If you haven't yet grabbed one, though, fear not because fans think they've found it somewhere else – Fortnite. Sort of.
The Fortnite Twitter channel has posted an image of a new weapon wrap available in the battle royale game's item shop, and looks suspiciously like Rainbow Six Siege's Black Ice skin. It's called the Shattered Ice wrap, and features a cool blue icy effect arguably reminiscent of the one in Ubisoft's shooter, though the Fortnite wrap has a glowing effect when fired.
Plenty of fans are noting a similarity between the designs in the comments; Fortnite YouTuber 4G, for example, says: "Finally gonna get a Black Ice… only in Fortnite instead of Siege!"
Mixer streamer TroyHD also comments: "Looks like I have to play Fortnite to finally get a Black Ice primary," while various others post images of the Rainbow Six Siege skin and offer variations of 'That looks like Black Ice'.
You can decide for yourself – take a look at the new Fortnite wrap below:
Break the ice 🧊

Grab the new Shattered Ice Wrap in the Item Shop now! pic.twitter.com/RLHKoWGOx6

— Fortnite (@FortniteGame) March 2, 2020
Either way, it's a pretty cool-looking skin (sorry, wrap), and is available right now in Fortnite's in-game store for 500 Fortnite V-Bucks if you're keen to pick it up for yourself.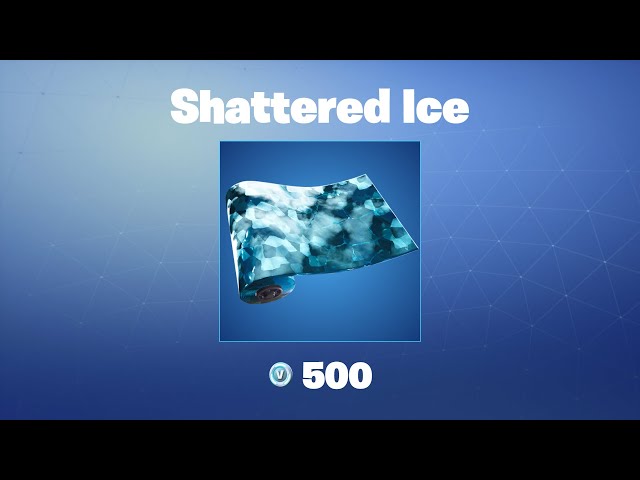 In the meantime, if you're a fan of Ubisoft's tactical shooter, be sure to see what's in store for Rainbow Six Siege Year 5 with our guides to the best Rainbow Six Siege Operators you can play right now.
If you're a fan of Epic's battle royale, we've also got some guides to Fortnite skins, Fortnite Ghost and Shadow factions, and how to get the Fortnite Deadpool skin, which you might find handy, too.