The final part of the letter hunting challenge asks you to search for the letter N under a frozen lake in Fortnite, and you may want to wait a couple of days before attempting this as you'll need to land in a dangerous spot.
This challenge is stage four of five and will reward you with two battle stars to help you level up your Battle Pass and maybe even unlock a cosmetic item you've been working towards over the holiday period. Once you've grabbed the letter N under a frozen lake you only have one more location to go before you've ticked the whole challenge off your season 7 week 4 list.
If you've yet to find the the letter O west of Pleasant Park, the letter S in Wailing Woods, or the letter M in Dusty Divot then check out our guides for those.
To search for the letter N in Fortnite, you'll need to drop at the frozen lake that sits just north of Polar Peak. As you're dropping you need to identify the biggest rooftop and aim for that – it's in the middle of the lake so it's easy to spot. Once you land there, grab the weapon that spawns on the roof and start harvesting the roof tiles so you can drop into the building below. Ignore the balcony, you want to jump down to the ground floor of the outdoor supplies shop and look for the Fortnite letter N by a canoe and a cash desk.
Once you've spotted it, just walk up to it and hold E to collect it, leaving you with one last stage to finish this challenge.
Here's a quick video in case you still can't find it: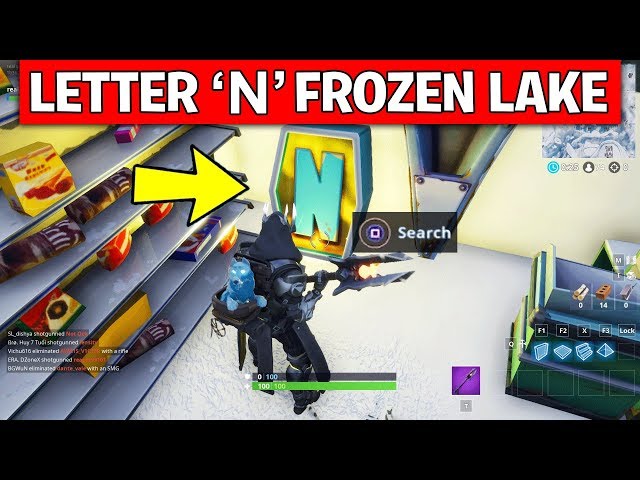 There are heaps of other Fortnite challenge guides you can take a look at, such as our list of Fortnite holiday tree locations and where to find all the Fortnite fireworks. If you're ever having difficulties completing a Fortnite challenge then check in with PCGN for a time-saving walkthrough.