What are the Fortnite week 1 challenges for season 8? We have already had our first glimpse at the eighth season of Epic Games' battle royale game, so we already have a good idea of the first weekly challenges we can expect. So, here's what we know about the Fortnite season 8 week 1 challenges so far.
The patch notes for the new season have dropped and we know that Lava will be added – which deals 1 damage per touch and causes players to bounce – and that Fortnite Volcanic Vents will boost players into the sky in a similar way that the Rifts do. But, before we worry about all that, we've got some Fortnite season 8 week 1 challenges to tackle.
Speaking of challenge-based news, you can now get your teammates to help you out with your weekly challenges with the new Fortnite Party Assist feature. This means that players in your party can help you to progress your plush new Battle Pass to help you earn brand new season 8 Fortnite skins and cosmetics. But, what are the first batch of challenges we'll be facing? Here's what we think the Fortnite season 8, week 1 challenges will be.
Fortnite season 8 week 1 challenges
The first batch of tasks are live and as ever, there is still three free challenges, and four for Battle Pass owners. So, here's what you need to do in your first set of missions:
Fortnite season 8 week 1 challenges – free
Visit all Pirate Camps (0/7) – 5
Search chests at Retail Row or Junk Junction (0/7) – 5
Stage 1 of 3: Deal damage with a shotgun and an explosive weapon in a single match (0/2) – 3
Fortnite season 8 week 1 challenges – Battle Pass
Visit a giant face in the desert, the jungle, and the snow (0/3) – 5
Use a Volcano Vent in different matches (0/5) – 5
Get an elimination with a shotgun, assault rifle, and explosive weapon (0/3) 10
Deal damage to a vehicle driven by an opponent (0/200) 10
Of course, there's loads more where that came from when it comes to season 8, so here's what you can get cracking with below.
Need a helping hook?
Fortnite Pirate Camps locations
Fortnite giant face desert location
Fortnite jungle giant face location

Now that the Fortnite season 8 release times are live, there's loads to discover and enjoy to tide you over for the next ten weeks up to season 9.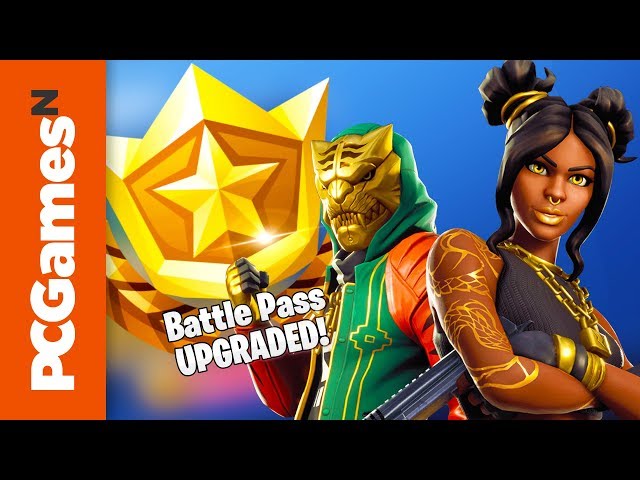 In the video above you can see everything you'll be able to upgrade in the Battle Pass. But, before you go, we'd like to wish you a happy Fortnite day.