What is the Fortnite season 9 release date? Now we can celebrate, new season day has finally arrived. So it's certainly close enough to start getting excited all over again for a brand new Fortnite season – unless you're Prince Harry, of course. As ever, we've been plugging away with those weekly challenges, racking up Victory Royales – we don't care if you don't believe us, we've got loads – and making masterpieces that rival the very best Fortnite Island codes. Probably.
But now, we're chomping at the bit to see what's next for Epic Games' world-conquering battle royale game as part of Fortnite season 9. As ever, Epic burrowed away plenty of intriguing metanarrative titbits to fuel the fan theorist fire, and then unleashed exciting new events.
We'll also be breaking down what you can expect to see in terms of Fortnite season 9 map changes and how the future Battle Pass will look. Since getting access to loads more cosmetic goodies and a glimpse at the refreshed battlefield are easily the most exciting parts of a new season, we'll be exploring those in the greatest detail, while also keeping this guide nice and up-to-date, naturally. So, here goes: this is everything we know about Fortnite season 9.
Fortnite season 9 release date
When is the Fortnite season 9 start date? Buckle up for your next dose of battle royale goodness: the Fortnite season 9 release date is May 9, 2019 – in other words, that's today! The Fortnite season 9 start date was revealed by Epic Games in the tweet below.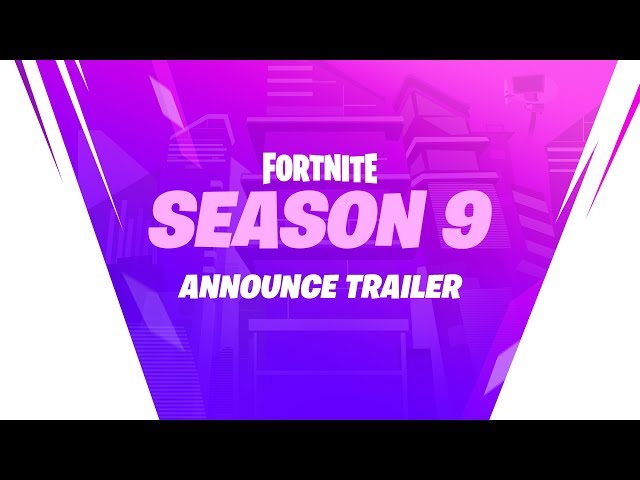 Fortnite season 9 trailer
New season day has arrived, and that means we've got a brand new Fortnite season 9 trailer to chew over. Based on the footage, we can see that this season does have a futuristic theme, and plenty of locations have had a sci-fi spruce up. Also interesting from the new Battle Pass overview is the new 'Fortbytes', collectible items that go some way to explaining the wider story of this ninth season.
The Future is Unknown. 5.9.2019 #FortniteSeason9 pic.twitter.com/OugJ6Y54G9

— Fortnite (@FortniteGame) May 6, 2019
The image certainly suggested that the Fortnite season 9 theme will be something futuristic, which turned out to be true. Not only is the character's garb somewhat sci-fi-like, the tweet's caption is "The Future is Unknown".
It's intriguing that the new season is so soon given that the supposed Fortnite Overtime challenges for season 8 have leaked. This intermission delayed the start of this current season by a fortnite, but this doesn't seem to be the case this time. These challenges were leaked, so they could well have just been a placeholder.
The Future is Bright.
5.9.2019 #FortniteSeason9 pic.twitter.com/Nvm7TiMq2I

— Fortnite (@FortniteGame) May 7, 2019
Fortnite season 9 teasers
Season 9 teasers landed in the usual time frame (3pm BST) in the days leading up to new season day. The sci-fi theme seems to be continued in the second tease above.
The Future is Tilted.
5.9.2019 #FortniteSeason9 pic.twitter.com/vJXgh30FdQ

— Fortnite (@FortniteGame) May 8, 2019
The third and final teaser now completes the word, 'NEO', and, once again, we're encouraged to think about the future of Fortnite. The tweet also specifically mentions Tilted Towers, now destroyed after the volcano erupted as part of the Unvaulting event. However, considering 'Neo' means new, we're either getting a brand new Blade Runner-esque version of Tilted, or there's going to be a huge crossover with The Matrix film franchise. Either way, we're excited.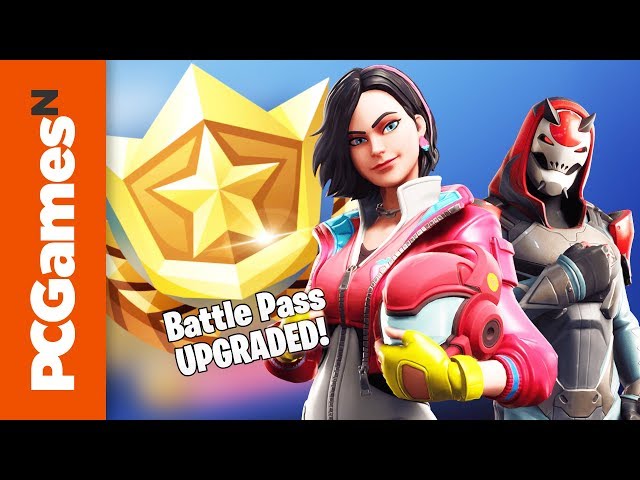 Fortnite season 9 Battle Pass
In life we can be certain of three things: death, taxes, and a new Battle Pass with each new Fortnite season. As ever, we're expecting 100 tiers to progress through and loot to unlock as you do. You'll get plenty more new cosmetics to add to your already-bulging collection if you buy the Battle Pass all over again, which we assume will again cost 950 Fortnite V-Bucks. Unless there are any drastic changes to the tried-and-tested Fortnite formula, you can play for free as long as you like, but your wardrobe will be lacking some choice additions.
That said, you could get a free Fortnite Battle Pass at the end of last season by completing special Overtime challenges. These missions kept us going between the final weekly challenges of season 7 and this current season commencing. At the time this was seen as an attempt for Epic to combat the rising tide that is Apex Legends. However, since many players of Respawn's multiplayer game were disappointed by the Apex Legends Battle Pass, it might not pose the threat to Fortnite's throne that it once did. Either way, we can't be sure that Epic will repeat this gambit. Also, according to dataminer @Guille_GAG, players might be able gift each other Battle Passes as part of Fortnite season 9.
Fortnite season 9 map changes and theories
Thanks to the various season 9 trailers that have dropped, and the Fortnite season 9 patch notes, we know that Tilted Towers and Retail Row will return following near total destruction following the Unvaulting event (which you can read more about below), but they are set to return as futuristic cityscapes. Following a cyberpunk-y refresh, now we have Neo Tilited and Mega Mall. You'll find them in the same place as the old ones were before, but now they come packing airvents, bounce pads and slipstreams.
If you need reminding about all the exciting stuff that kicked off before this new season, here's a quick summary. It all started with the various Fortnite dig sites that appeared across the map, but especially interesting was the Fortnite Loot Lake vault. Then mysterious runes started moving towards five different slots.
More Fortnite loveliness:
Fortnite Fortbytes locations
Fortnite Sky Platforms locations
Fortnite season 9 skins
When the site opened, the Unvaulting event allowed players to vote on which vaulted weapons – like the Drum Gun and Tactical SMG – they wanted to see return to the game. However, something certainly doesn't look like it's coming back. Following the Fortnite volcano eruption, old Tilted Towers was decimated by lava. The entire world was covered in smog-filled blackness as molten rocks were launched in all directions, smashing into Polar Peak and Retail Row. Much has changed ahead of the new Fortnite season 9 map already, but expect plenty more soon.
Of course, as with the Fortnite Prisoner skin and the end of season 7, no fan theory about the upcoming phase of battle royale should be without mention of the Fortnite Ruin skin – unlockable in week eight of this current season. Firstly, if you take a peek at the chinks in Ruin's armour, his skin looks an awful lot like the Prisoner's once you've fully upgraded him. It's possible that they're related, or at least working together to face the Ice King. Moreover, Donald Mustard, worldwide creative director at Epic Games, tweeted "the Prisoner has a Right Hand". Could he be referring to Ruin as his right hand man?