Where can you find the free Battle Pass tier from the Fortnite Snowfall week 1 loading screen? The Launch of Season 7 has turned Battle Royale Island into a wintry wonderland replete with frosty new biomes, a haul of seasonal skins, and plenty of new Fortnite challenges, like the Snowfall challenges.
If you've been hunting down banners and Battle Pass tiers in previous seasons then you'll already be very familiar with how this new set of challenges work. To unlock each challenge in this set you'll have to complete the weekly challenges for the Season 7 Battle Pass. Tick off all the challenges in a given week and you'll be rewarded with a loading screen from the Snowfall challenge set, and if you scan it carefully you'll discover the location of a hidden Battle Pass tier.
These Snowfall challenges are worth chasing for more than the free Battle Pass progression though, manage to collect all of the loading screens and you'll notice a story unfolding and at the end of the season you'll get a special Snowfall Fortnite skin to show off in-game.
If you're still struggling to find where to dance on top of a crown of RVs, where to find a Fortnite submarine, or the location of the Fortnite metal turtle then let our guides show you the way. We also have a guide to finding all Fortnite Forbidden locations, so getting to the Snowfall challenges shouldn't take too long.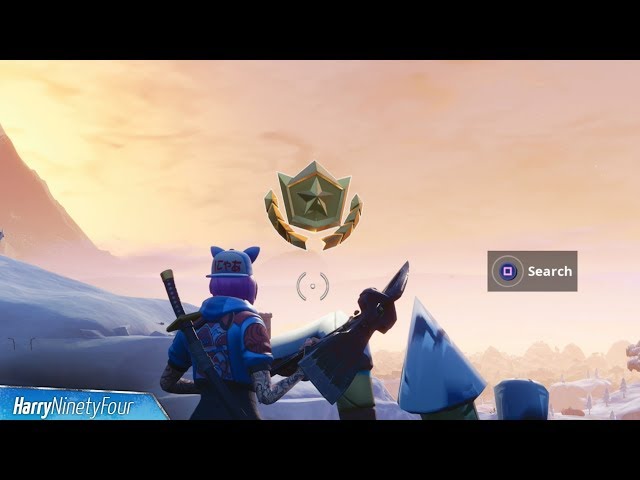 We've not quite managed to complete all of the week 1 challenges for Fortnite Season 7 yet, but – as ever – the wonderful Fortnite community has already unlocked the week 1 Snowfall loading screen and found the hidden star. Above is a video from Fortnite YouTuber HarryNinetyFour showing you exactly where you can grab the free tier. The Snowfall week 1 loading screen was discovered by prominent Fortnite dataminer @lucas7yoshi_ as soon as the update went live.
Loading screens 1: pic.twitter.com/v8pVhUtuTr

— Lucas7yoshi_ // Fortnite News & Leaks (@lucas7yoshi_) December 6, 2018
If you look at the third image in the post embedded above you can spot the outline of a Battle Pass tier hovering over the submarine in the background. That's it, simply finish your week 1 challenges for the Season 7 Battle Pass, jump into a game and aim for the submarines on top of a mountain – you'll find this just southeast of Frosty Flights.