Monster Hunter: World, Assassin's Creed: Origins, Tekken – Final Fantasy shows up in about as many games as Geralt of Rivia does these days. Now, the plush convertible touring car from Final Fantasy XV has shown up on the highways and byways of Forza Horizon 4.
Actually, make that two Regalias. The boys' royal automobile has two models in Forza Horizon 4 – there's the beefy 723 Quartz Regalia sedan that featured in Final Fantasy XV, and a huge off-road Regalia Type D equipped with a massive lift kit and big dune tires, plus a set of ostentatious exhaust pipes and extra lights.
This is actually the second appearance the Regalia's made in the Forza Horizon series – it was added to Forza Horizon 3 in 2017, although back then it was in a top-up configuration. Both Regalia models in Forza Horizon 4 have the top down, the better to feel that bracing North Sea wind in your spiky anime hair.
Both models are available now as gameplay rewards, so you don't have to worry about opening up your wallet for these puppies. I haven't had time to jump back into Forza Horizon 4 to find out what they want you to do to earn these, but I definitely want to have them in my garage.
Here's a little teaser trailer showing off the Final Fantasy XV whips: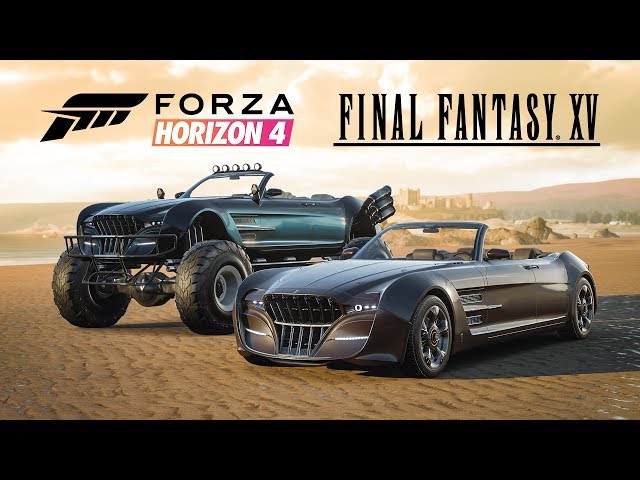 The Regaliae aren't the first crossover vehicles to appear in Forza Horizon 4. One of the game's showcase events features a nail-biting run in Halo's iconic Warthog ATV, with Cortana issuing dire warnings as you avoid incoming enemy fire on a coastal off-road track. It even changes the game's skybox to include the Dyson structure that Halo's fiction centers around.
Strap in: The best racing games on PC
The Final Fantasy XV crossover is part of Forza Horizon 4's Series 6, which adds a new Horizon Story, Summer Playground Games, new Season Events, and a new Car Pass to the game. It's the final set of cars for the Car Pass, and it includes a 1959 Cadillac Eldorado Biarritz Convertible (which is about as big as the Regalia) and the sporty TVR Griffith.