You might be able to grab a Mac Pro wheels kit for $700, but how does a gaming PC crammed into a whole other set of wheels – a driveable toy Tesla Model S – sound? A YouTuber has posted a clip showcasing exactly this – a "high-end PC that can also be driveable" – or, put another way, "A mini Tesla that also has a PC in it".
As spotted by PCGamer, YouTuber Marques Brownlee has explained how the rig's made possible, and it starts with a Tesla Model S kids' toy, built by Radio Flyer (which you can see here). It's a "strikingly accurate" replica of the real thing and, like the original for grown ups, completely driveable. The dev explains that Origin PC saw the car – in particular, the space in its little front trunk – and realised it could house a custom built PC inside. "So that's what they did", Brownlee says.
According to the clip, the toy Tesla was able to accommodate a gaming PC kitted out with a AMD Ryzen 3900X CPU, Nvidia GeForce RTX 2080 Ti Founders Edition GPU, ASRock X570 Phantom Gaming-ITX/TB3 motherboard, two 16GB Corsair Dominator RAM sticks, a 2TB SSD, and a Hydro X cooling system. Neat.
There's also some cool RGB lighting underneath the toy and a whole bunch of USB ports fitted to its miniature dashboard, offering room to chuck a bunch of the best PC gaming peripherals in there if desired. You can take a look at the clip for yourself below: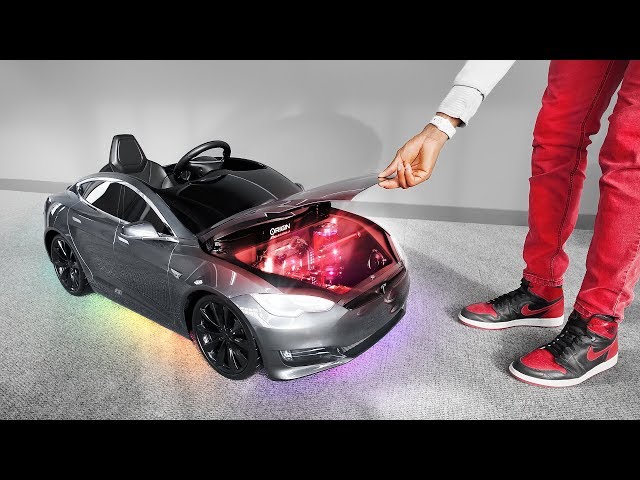 It's worth noting, before you go ahead and scribble it down on your wish list, that the setup costs $13,432 (approximately £10,791) without including shipping costs. And there are options to add custom cosmetics, too. Phwoar.
If you're happy to skip the toy Tesla, you can always check out our guides to the best gaming PC builds in 2020, best PC setup for working from home, and best graphics card in 2020 to help you pick something out.