Gears 5, being a Gears of War game, is big and brash and full of explosions. But it's also full of some of the best options for deaf and hard-of-hearing players in the triple-A space. One site dedicated to reviewing games' accessibility options has given Gears 5 its first perfect score for a game from a major publisher.
Can I Play That evaluates games' accessibility options from the perspective of players with disabilities, looking at whether and how well games accommodate players with mobility issues, deafness, and hardness of hearing. Gears 5, reviewed for the site by editor in chief Courtney Craven, is the first triple-A game to really knock it out of the park when it comes to deaf/hard-of-hearing players.
"What they got right is everything," he writes. "There's not a single thing I can see needs improving in terms of Gears 5's Deaf/hoh accessibility."
A lot of that is down to the quality of Gears 5's subtitling. Naturally, all character dialogue is subtitled, but Gears 5 doesn't stop there. The game indicates where someone is speaking from if they're off-screen – so for instance, it will indicate when Kait is speaking to you over the radio.
Radio breaks and distortions are indicated in the captions, as well as non-verbal sounds characters make. When Kait groans from an affliction, the subtitles let players know: "Kait: <mild headache strain.>"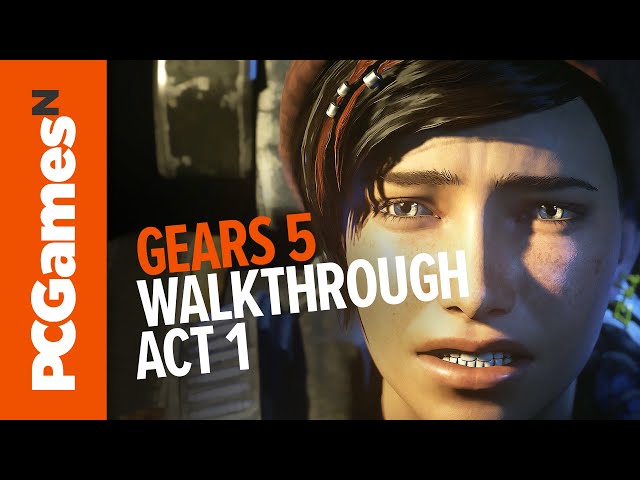 Perhaps the nicest touch, though, Craven writes, is that there's even a subtitle for when the dynamic musical score drops back down after a firefight. The captions tell you "music settles," which is an important cue for players, letting them know a fight has just ended and you can calm down and start exploring the scene again.
Craven notes several other areas where Gears 5 does a great job of making itself accessible: Subtitles – including font size and background – can be set up in a screen that appears before any cinematic or game content begins, and there's also an option to set up a Microsoft Adaptive Controller from the same screen. Gears 5 is also great about giving you visual clues about where incoming fire is coming from, meaning you don't have to rely on spatial audio.
Gears 5 didn't exactly light Griff's world on fire, as you can read in our Gears 5 review. But other critics have had a pretty good time with the game, and it's great to see a major release like this make a point of including this many accessibility options.