Looking for the best Genshin Impact Ayaka build? Kamisato Ayaka was introduced in the Genshin Impact 2.0 update, although she was initially playable in the game's closed beta back in July 2019. She's quickly become a high ranking character in our Genshin Impact tier list, and the great news is we're expecting another Ayaka banner soon.
A new banner is a great opportunity to make sure you're up-to-date on the best Ayaka build advice. Ayaka hails from the Inazuma region, along with Kazuha, Yoimiya, and Sayu. She is a five-star Cryo sword wielder, and the daughter of the Yashiro Commission's Kamisato Clan, one of the most powerful families in Inazuma. A lot of Ayaka's abilities are named after her clan – and she's become a great candidate for freeze teams as a DPS with a focus on dealing critical hits.
Here's the best Ayaka build in Genshin Impact, including which artifacts and weapons to pick, as well as the best Genshin Impact characters to round out your party.
The best Ayaka DPS build is:
Sword: Mistsplitter Reforged
Artifacts: Blizzard Strayer (four-set)
Ayaka's abilities clearly pitch her as a main DPS character. The Mistsplitter Reforged is the best weapon for Ayaka as it suits her perfectly. It automatically provides a 12% elemental damage bonus, and it activates the Mistsplitter's Emblem after Ayaka lands a normal attack. This ability has three levels, dealing 8%, 16%, and 28% elemental damage bonus depending on which attacks Ayaka uses and how much energy she has left. Ayaka can easily trigger each of the three levels without having to adjust her playstyle purely for the sword's abilities.
Razer DeathAdder V2 Pro – Genshin Impact Edition Razer DeathAdder V2 Pro – Genshin Impact Edition Razer $139.99 Buy Now Network N earns affiliate commission from qualifying sales.
In terms of the best Ayaka artifact set, the meta is still to run a four-piece Blizzard Strayer, which is an easy choice for Cryo characters in general. Using this set, Cryo attacks deal 15% more damage, and Ayaka's crit rate increases to 40% if her opponent is frozen.
Ayaka advanced build
Genshin Youtuber Sekapoko has recently discovered a more advanced build for Ayaka that involves using a brand new artifact set introduced in the 2.6 update – Echoes of an Offering – along with giving Ayaka the Haran Geppaku Futsu, the new five-star sword that's actually Ayato's signature weapon.
Here's the video in full: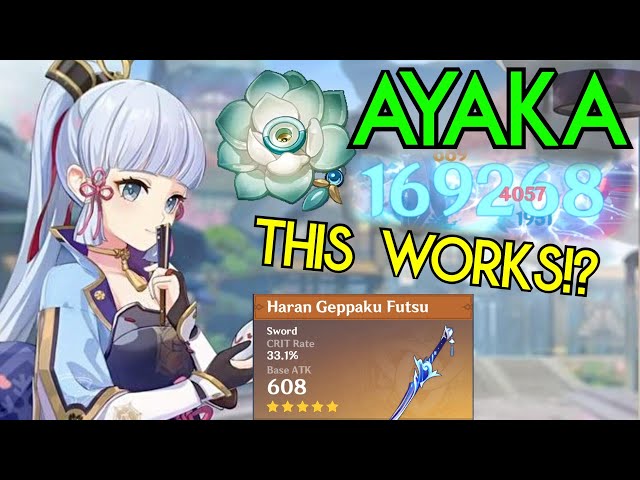 Sekapoko stresses that this new build doesn't replace the current meta listed above, but it does provide an interesting alternative for those looking to experiment with Ayaka and the new content. It also leads to disgusting amounts of damage in a short period of time, and doesn't require you to have to build energy recharge into your team, which is a plus. One major downside is that it's not particularly F2P friendly, although Sekapoko does explore variants using F2P weapons and other options.
Ayaka team composition
To trigger the freeze elemental reaction, your party needs to have a Hydro character, and Mona is generally considered one of the better choices here. Xingqiu is also a good option as he can easily apply Hydro with his abilities and he can deal large amounts of damage without needing to be on the field – also like Kokomi, who recently had a banner rerun.
Ayaka's elemental abilities have high energy costs, so you need to include a support character on your team that can quickly build energy. We recommend picking someone like Diona or Venti as these characters synergise well with Cryo characters and offer plenty of recharge.
Venti in particular might be Ayaka's best partner as his elemental skill launches enemies into the air, giving Ayaka a great opportunity to deal damage. The bard can also be used in the support slot, but Venti's crowd-control abilities won't work on boss monsters. An alternative choice might be Kazuha, who is a strong anemo character in most builds.
Rosaria is a great alternative battery option and she can help increase Ayaka's crit rate even further with her Shadow Samaritan passive talent – better yet, she will be featuring on Ayaka's rerun banner, so if you don't have her already you will get a chance soon.
Best Ayaka build F2P
For F2P players, you could opt for the Blackcliff Longsword as this is easily Ayaka's best weapon that doesn't require excessive amounts of wishes. You've got a lot of decent options in terms of team composition as well – Kaeya is a good cryo support character who's available for free from very early in the game, and Barbara can bring the hydro component of freeze teams and is also one of the game's best healers.
As luck would have it, Xingqiu can be obtained for free during the Hues of the Violet Garden event running in the first half of the 2.6 update, so if you're able to participate then you shouldn't pass up on the chance to grab him for free. The Traveler starts off as an Anemo character, and so can fill in the role of Venti or Kazuha in a pinch.
Razer Iskur X – Genshin Impact Edition Razer Iskur X – Genshin Impact Edition Razer $499.00 Buy Now Network N earns affiliate commission from qualifying sales.
There you have it, the best Ayaka build in Genshin Impact. Check out who else is coming on the next Genshin Impact banner, and we've also got a guide to everything we know about the 2.7 update. If you're saving up to get Ayaka during her upcoming banner, you may want some Genshin Impact codes for those free primogems.
Additional contributions by Joe Robinson.