This Genshin Impact whale account is truly the stuff of dreams…or maybe nightmares. The owner — a Genshin streamer named Razerninjas — admitted to spending over USD $100,000/GBP £83,225 on the anime game, and you can absolutely tell. They've got a ton of perfect weapons, maxed-out characters, and much more. Basically, this account has everything that you wish yours had.
Razerninjas owns every single weapon in the game — including all of the five-star options — and they're all fully refined at level 90. There are even multiple R5 duplicates of the same five-star weapons, with extra R1 versions just laying around, untouched.
The account also contains all available characters in the game, at level 90 with all of their constellations unlocked. Even the talents are either max level or close to it. There are only so many crowns available to use, but plenty of the characters on the account are near 9/9/9 for talent levels.
You would think that Razerninjas doesn't play or grind much because of all of the money spent, but you'd be wrong. A large majority of their artifacts have rolled into excellent stats, which means a ton of grinding must've been done on top of the credit card swipes.
Another Genshin content creator named Zy0x made a YouTube video about the whale account — he occasionally reviews and helps build up struggling accounts, but this was a very different situation. You can check out the video below to see what $100,000 can buy in Genshin Impact.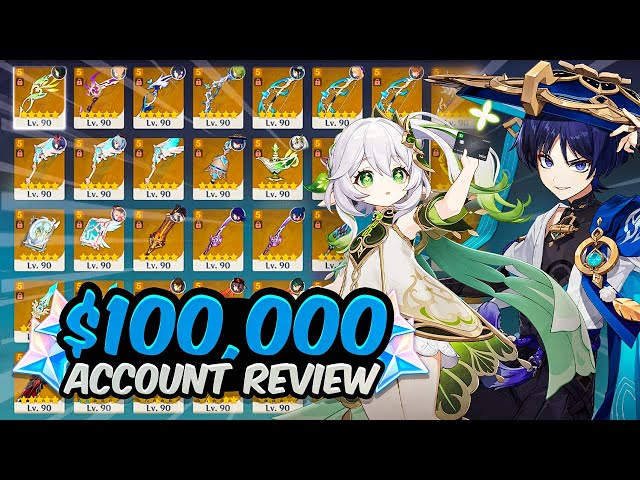 Many of us can't hope to reach this level of account, but we can still pull for a few of our favourite characters. The first half of Genshin Impact version 3.4 is coming to a close soon, so it's your last chance to wish for Alhaitham, Xiao, and Yaoyao before Hu Tao and Yelan arrive in the second half of the update.