While Steam's 'most popular' list has largely been skewed by the upcoming Hogwarts Legacy release date, new MMORPG Gloria Victis has skyrocketed in popularity overnight, channelling Amazon Games' New World and thrusting players into a medieval adventure. Oh, and did I mention that it's really, really cheap?
Gloria Victis is described as a "low fantasy MMORPG with a emphasis on realism," championing its "deep, mature story" and focus on PvP-style combat.
The game has been in early access for quite a while, but eventually launched on February 7 alongside patch 1.0. Pretty much as soon as it released, the game swelled in popularity, going from a slightly measly 412 peak players at the end of January to 1,640 overnight (four times it's player base!) – and that number is rising according to Steam Charts.
While it not be the biggest number on the planet, the game has over five thousand reviews that are "mostly positive," with recent entries citing issues with server access and lags.
I'm not saying those issues aren't important, but it's always worth remembering that MMO launches are pretty much characterised by server issues at this point. The WoW Dragonflight World server went down upon release last year, and I still vividly remember those FFXIV Endwalker queues. Should they be there? Probably not, but like it or not launching a new MMO and server issues go hand in hand these days.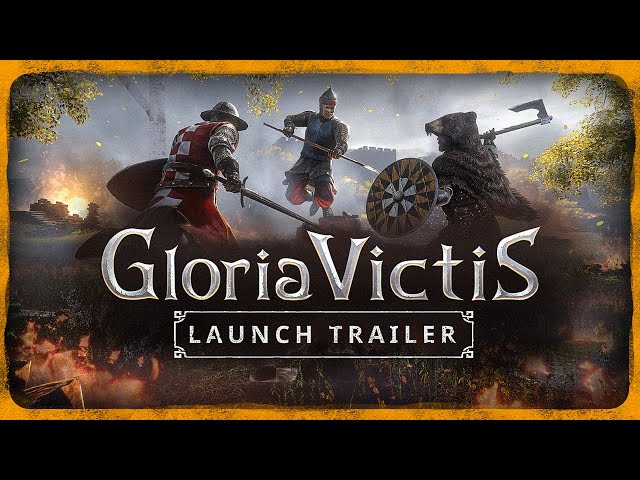 Unlike WoW or FFXIV, though, Gloria Victis is a one-time purchase, mirroring its counterpart, New World. At the moment, you can save 50% on the game, making it $9.99 / £7.49 instead of $19.99 / £14.99. You'll have to pick it up before February 14, though, but what better way to spend Valentine's day than caving in some enemy skulls?
The developer's other game, Nadir, which we described as Slay the Spire meets Darkest Dungeon, also left early access on February 7, and is 30% on Steam right now – so if a roguelike deckbuilder is more your thing, there's that, too.
As someone who really, really wanted to like New World but just couldn't deal with that much grinding, Gloria Victis has certainly piqued my curiosity. While I'm currently playing through Final Fantasy XIV with my partner for Valentine's, maybe, just maybe, we'll give it a go to toss axes at each other – lovingly, of course.
If you're an avid fan of all things historical, be sure to check out our list of the best medieval games, as well as our rundown of the best fantasy games if you're looking for something a little more spectacular. And if it's the wallet-friendly aspect that has you intrigued, then check out the very best free Steam games on offer. To check if your PC can run the the minimum requirements and recommended specs, take the Gloria Victis system requirements benchmark test.