Guild Wars 2's last Living World season gave us a showdown for the ages: an epic battle between the defenders of Tyria and the followers of the Elder Dragon Kralkatorrik, besides letting you take to the skies yourself on the majestic Skyscale dragon mount. Season five, the Icebrood Saga, has a lot to live up to, but looks set to bring even meatier content to get your teeth into. And speaking of (big, sharp) teeth – the Icebrood Saga is all about the feline warrior race, the Charr (and the Norn, a bit).
The prologue chapter, Bound by Blood, introduces a new playable area, Grothmar Valley, which lies deep in charr territory. The charr High Legions are gathering to celebrate Kralkatorrik's defeat, though as the announcement trailer revealed, the ice dragon Jormag's hordes are on the move – with those of the disgraced charr Flame Legion among them.
As the entry point to this next Living World, Grothmar Valley is full of new events and challenges to get stuck into. It turns out that the charr love their leisure time as much as they love a fight, as I learned on a tour of the area with developers from ArenaNet as my guides. Some of the activities in the valley are not only challenging – they're really fun, and naturally, there are some shiny new rewards on offer.
First up is something for those who enjoy a good ranged challenge – a target shooting event, but in the sky. An adorable litter of dutiful but not yet very skilled charr cubs are keen to learn how to shoot, and you'll get to teach them. Head to the training grounds, hop onto some flying platforms, and once airborne, show the kids how to blast aerial targets out of the sky.
There are some challenges to complete and achievements to earn here, but helpfully the targets are player-specific, so there's no need to fret if another player takes yours out. Your ego might take a bit of a hit in front of those little cubs, though.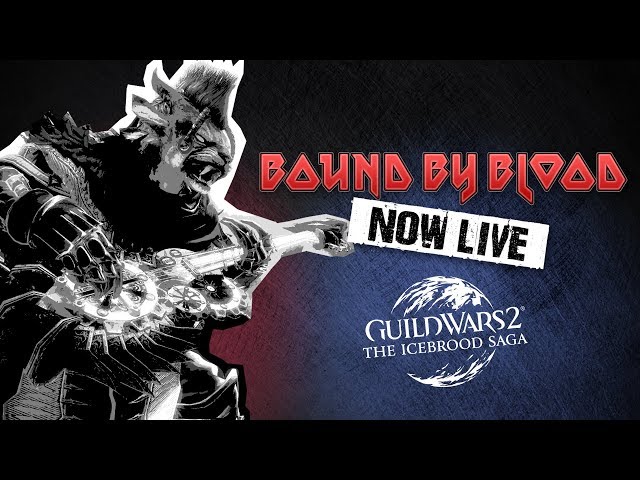 Another event that arrives with the chapter is unapologetically fun – a demolition derby-style race. You get to roar around on armed bikes firing at other players, trying to claim a win for your choice of the Legions (the default selection will be your own Legion, but you can always pick another…).
A trumpet sounds, a voice bellows: "Drivers, to your death machines! Bring glory to your Legion!" and I'm off. Drums and battle music sound as I tear around the makeshift arena, chasing down victory. Win or lose, simply participating gives me a charr-kart to hire to drive around the map as a once-daily reward.
Naturally target shooting and destruction derby lends itself to a certain soundtrack, and once again, the charr provide. Grothmar Valley rocks to the sound of Metal Legion, a metal band (obviously) who'll perform original songs in an in-game live concert, celebrating the heroism of the feline warriors – but you'll have to stop it being derailed by near-constant sabotage attempts. 'Crazed Fans' try to storm the stage, and I pound on them until they become 'Subdued Fans.' My work doesn't stop there, though – there are technical hiccups to fix, crowd-lurking enemies to take out, and even a mini mid-concert dance competition to smash, all to please the crowd, of course. There's even an 'Audience Hype' metre that tracks how well the concert's going, and which determines the rewards you'll get at its conclusion.
Just when I think I've saved the day, a boss emerges right on the stage itself. A dragonesque beast forged of fire, metal, and Bruce Dickinson's wildest fever dreams emerges with a signature move you'll want to avoid – it'll grasp you in its monstrous claws and hurl you across the arena in a ball of flames if it gets the chance.
Away from such fun and games, I get the chance to try one of the Icebrood Saga's new ten-player strike missions. There's one available in Bound by Blood (though more are coming), which sees our group head into the ominous, wintry Shiverpeaks Pass to check if the way is clear, as the Icebrood has been messing with it. The strike comes in two types, 'Public' and 'Squad' – the former matching you up with other players if you don't have a gang formed and ready.
It starts with a pretty tough jump puzzle. If you're terrible at these (like I am), fear not – it only takes one of your party to reach the top, and when they do you'll get the option to be teleported up to join them, ready for the big bad boss battle. If you do have the skill, there are some chests scattered about the platforms, laden with loot.
The boss fight is no mean feat, and you'll want to have ten players to take it on. Named simply the 'Icebrood Construct,' the sinister, glacial golem creature sits huffing menacingly as our team prepares. During the battle it throws everything it's got at you, quite literally – after losing half its health, it starts ripping out crystalline chunks of its own body and hurling them at us. As with the concert, beat it quickly and effectively and you'll earn more goodies, with cool event items up for grabs.
Beyond this, the devs promise that there's far more to discover in the way of things to do and goodies to grab, but there'll be more onus on you to look around – keep an eye out for things happening around the world, and immerse yourself in the lands of the charr at ground level. ArenaNet also teases something hidden in the map that's tricky to find, but promises to yield exciting things, though there's no more details on this yet – you'll have to go explore the new lands and keep your eyes open for whatever this mystery is.
The Icebrood Saga's prologue, Bound by Blood, launches today – and promises to be more than a little charrming.