Guild Wars 2: The Icebrood Saga continues this month with Episode 3, No Quarter. Bringing a whole new region of Tyria to explore, a "massive map-wide meta event", an all-out eruption of civil war between the various charr factions, Strike Mission, weapon sets, and more, the episode marks a meaty new stage of the Icebrood Saga to sink your pearly white teeth into – and it arrives in just few weeks.
As announced by developer ArenaNet today, Episode 3: No Quarter, plunges you "into the middle of an epic confrontation against former allies as conflict between factions of charr warriors erupts into all-out civil war". You'll get to dive into the Drizzlewood Coast for the very first time, a secluded portion of Tyria hidden away in the viridian forests of the Woodland Cascades, and get stuck into the all-new storyline, in which Ryland Steelcatcher and Bangar Ruinbringer – and their "Dominion forces" – take centre stage.
Plus, as the dev explains, the Episode is inspired by the MMORPG game's World versus World game mode, and thrusts players "into a massive map-wide battle featuring fortress sieges and capture points in one gigantic meta-event". Neat!
There's a Guild Wars 2: The Icebrood Saga Episode 3 trailer you can check out below: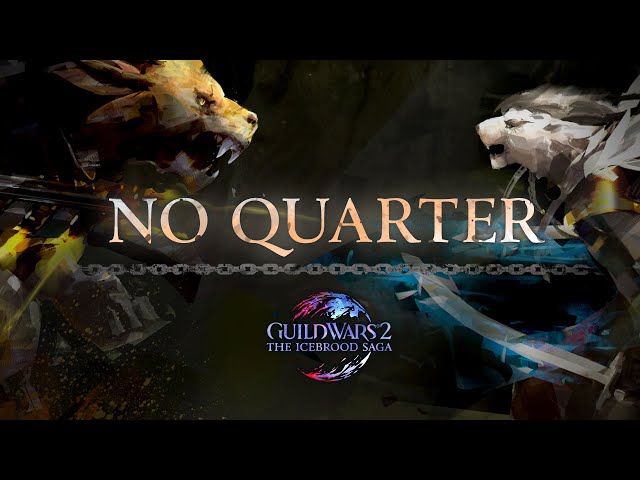 In addition to the new questline and map, there's plenty of other new content and goodies to come, too. There is a new United Legions Waystation mastery offering some new special actions skills that you'll find handy for "besieging charr fortresses and resupplying allies", a new wave-based strike mission called Cold War that sees you tackle some pretty intimidating foes, as well as a new tier for Episode 1's Essence Manipulation mastery tracks.
There are also two new standalone weapons you can earn, two weapon sets to scoop – Tengu Echo and Stormcaller – a previously NPC-only Bear Shaman armour set, and some new "charr-themed backpacks, plus new charr-specific helms for charr player characters". Oh, and thanks to a new emote, you'll be able to "play dead" if you like. Whew!
No Quarter goes live on May 26 and is free for all Guild Wars 2: Path of Fire owners. If you don't already have it, the good news is both the online RPG game's standard and deluxe editions are on sale for 50% off until May 8.